Reasons to Work Out on Vacation
Vacations: The Best Time to Try New Fitness Classes
Some may leave their gym shorts and running shoes at home when they jet off for a vacation, but FitSugar readers make it a point to sneak fitness into their schedules while traveling. And I commend you for doing so, because when you've got a mai tai in one hand and a gripping novel in the other, it can take a lot of willpower to head to the gym.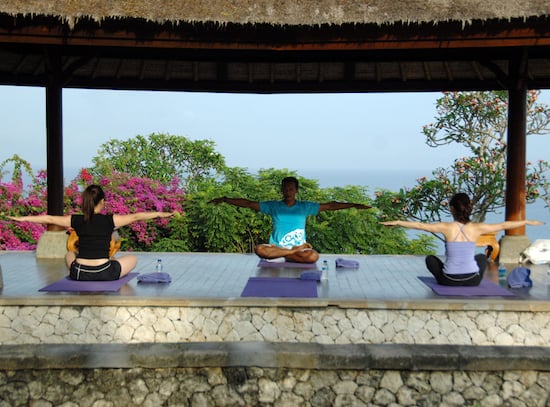 Working out while on vacation can actually be an exhilarating and rewarding experience — especially if you try a new class. Here's why trips afar are the best time to switch up your fitness routine.
Small classes: If your resort or hotel offers classes, pick a class that you've been wanting to try. I've been to classes where it's just been me or one other person, since resort-goers usually aren't rushing to fitness classes. When you're trying something new, having that one-on-one time with the instructor is invaluable. Just think of it as your own private class — ask questions, voice concerns, it's your hour!
You feel more adventurous: I don't know about you, but when I'm on vacation, it doesn't take much for me to say "yes" to doing something out of my comfort zone — "Parasailing? Sure! Scuba diving? Why not!" That yoga or spin class that seems daunting back home, may seem like fun on vacation. And often times at sunny resorts, classes are outdoors or in studios that are partly inside/partly outside, allowing you to take in the beautiful scenery. Who doesn't like sunrise yoga on the beach?
The power of a tan: A little tan goes a long way. And once you've been in a bathing suit for a couple of days, workout wear doesn't seem nearly as restrictive or unflattering as it did a week ago. Put on that hot pink tank top that's hiding in the bottom of your suitcase and head off to a Zumba class. No excuses!
Infinite amounts of time: When you're away from work and the responsibilities you left at home, time can't slow down enough. But here's the thing: between day trips and pool time, it's not a huge hassle to pencil in an hour of workout time. What I tend to do is sleep in, put on my gym gear, grab a light breakfast, read the morning news, and then head to a class or to the gym (usually with my travel partner, so you can still share laughs and gab along the way). By noon, I can hit the beach, have some lunch, and the rest of the day is still mine to do whatever I please.