Recipe to Add Bulgur to Your Hamburger
Healthy Eats: Add Bulgur to Your Burger
I have always been a fan of the burger. In my vegetarian days, the scent of hamburgers cooking on the grill made my tummy rumble, and veggie burgers never satisfied my yearning for the all-American grillable sandwich. Taste buds aside, ground beef is not necessarily the healthiest choice. These days, I add whole grains to my hamburger patties. Not only does this add fiber to a food otherwise lacking, but the additional grains mean each burger contains less fat and cholesterol. For fortifying my burgers, bulgur is my grain of choice (it's a culinary tradition in healthy Mediterranean cooking to add this grain to ground meat), but brown rice works well too.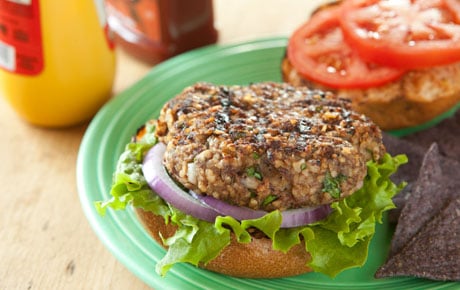 Ingredients
2 cups water
1 cup bulgur wheat
Canola oil
1 1/4 pounds (95-percent) lean ground beef
1/2 cup chopped parsley
1 teaspoon ground cumin
1/2 teaspoon ground cinnamon
1/2 teaspoon ground allspice
3/4 cup finely chopped red onion, plus sliced onion for garnish
Salt and pepper to taste
6 whole wheat hamburger buns, toasted
Green or red leaf lettuce
2 tomatoes, sliced
Directions
Bring water to a boil in a small pot over medium high heat. Add bulgur, cover, reduce heat to medium low and simmer until water is almost absorbed and bulgur is just tender, about 10 minutes. Remove pot from heat and set aside for 5 minutes. Uncover pot, fluff bulgur with a fork and set aside until cooled.
Grease grill grates with oil and preheat to medium heat. Meanwhile, in a large bowl, mix together beef, bulgur*, parsley, cumin, cinnamon, allspice and chopped onion. Form mixture into 6 patties and season all over with salt and pepper.
Grill patties, flipping once, until deep golden brown and cooked through, 5 to 7 minutes per side. (Alternatively, cook burgers using 1 tablespoon canola oil in a large skillet over medium heat.) Transfer burgers as done to hamburger buns, top with lettuce, tomatoes and sliced onions and serve.
Serves 6.
*I don't like to mix in all two cups of the cooked bulgur. I usually add around a cup and a half. If you use all the bulgur, the burgers have a tendency to fall apart.
Per serving (about 11oz/321g-wt.): 360 calories (80 from fat), 9g total fat, 2.5g saturated fat, 50mg cholesterol, 460mg sodium, 46g total carbohydrate (9g dietary fiber, 6g sugar), 26g protein
Information
Category

Main Dishes

Cuisine

North American