Recipe For Almond Butter Filled Dates
Snack Attack: Almond Butter and Granola Filled Dates
Sometimes when it's snack time, I crave a sweet treat like a cookie or a slice of devil's food cake (it really does live up to its name), but those aren't exactly the healthiest choices, especially after a workout. A friend turned me on to this snack and now it's a new favorite of mine. It's simple and satisfyingly chewy and crunchy.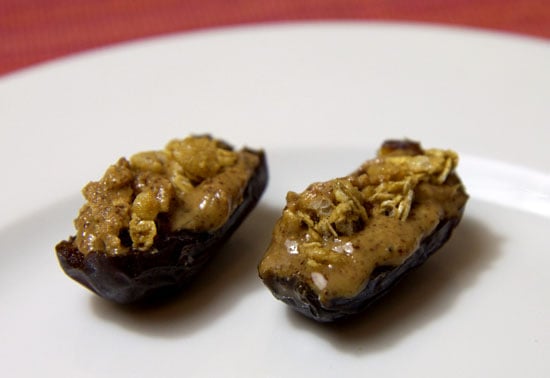 What you'll need:
1 Medjool date
1 tablespoon almond butter
1 tablespoon granola
What you do:
Cut the date in half and remove the pit. In a bowl, mix the almond butter and granola. Spoon half into each date half and enjoy.
Check out the nutritional stats of this yummy snack:
| | | | | | |
| --- | --- | --- | --- | --- | --- |
| | Calories | Sat. Fat (g) | Carbs (g) | Fiber (g) | Protein (g) |
| 1 medjool date | 66 | 0 | 18 | 1.6 | .4 |
| 1 tablespoon almond butter | 98 | .5 | 3 | 2 | 3.5 |
| 1 tablespoon granola | 26 | .1 | 4.7 | .9 | .9 |
| Total | 190 | .6 | 25.7 | 3.5 | 4.8 |