Recipe for Banana Almond Oatmeal Pancakes
Healthy Breakfast: Banana Almond Oatmeal Pancakes
I'm one of those people who could be happy eating breakfast for every meal, even dinner. Warm and crispy waffles and pancakes are my favorites, and since they're not the healthiest choice on the menu, I like to make variations that offer more nutrition than your basic flapjacks.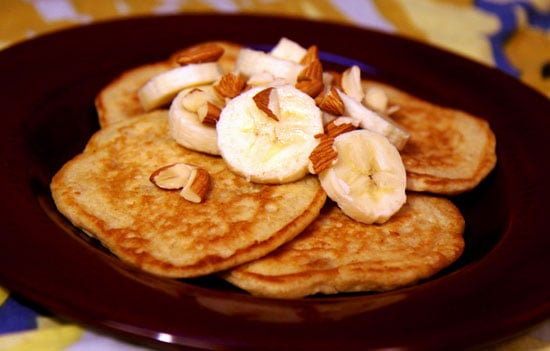 If you liked the Cinnamon Oatmeal Waffles, here's a pancake recipe that includes oats as well. It's made with fresh bananas, so it's a great way to use this fruit before the warm weather spoils your entire bunch.
I am hoping these pancakes are the central dish of my Mother's Day breakfast in bed. To learn this simple recipe that's a huge hit with my family, read more.
Recipe For Banana Almond Oatmeal Pancakes
Modified from an old family recipe
Ingredients
1 cup whole wheat flour
1 cup quick or rolled oats
1 tablespoon baking powder
1 teaspoon salt
1 egg
1 teaspoon cinnamon
1 tablespoon honey
1 to 1 1/2 cups vanilla soy milk (or skim milk) (depending on whether you like thin or thick pancakes)
1 banana, diced
Cooking spray for pan
1/4 cup almonds
1 banana, sliced
Directions
In a bowl, mix the flour, oats, baking powder, salt, egg, cinnamon, and honey. Stir in the soy milk to the desired consistency. I like my pancakes to be neither too thin nor too thick, so I added 1 1/4 cups of soy milk. Stir in the bananas.
Place a skillet on medium heat (I use a square-shaped griddle). After spraying the pan, pour batter into 4-inch diameter circles (using about 1/4 cup of batter).
While the pancakes are cooking, hand chop the almonds on a cutting board with a sharp knife.
Once the pancakes begin to bubble, flip them and cook for another minute or so on the other side until golden brown.
Serve three pancakes with sliced bananas and chopped almonds. They're delicious like this, or for a sweeter breakfast, pour on two tablespoons of real maple syrup.
Makes 12 pancakes (four servings).
Information
Category

Breakfast/Brunch, Pancakes/Waffles

Cuisine

North American
| | |
| --- | --- |
| Serving Size | 3 pancakes |
| Calories | 337 |
| Total Fat | 6.5g |
| Sat. Fat | 1.1 g |
| Cholesterol | 47 mg |
| Sodium | 603 mg |
| Carbs | 62.2 g |
| Fiber | 5.6 g |
| Sugars | 12.1 g |
| Protein | 10.5 g |
If you have a tasty and healthy recipe to share, post it in the Healthy Recipe Group. I am always looking for new ones to try.