Recipe for Banana Apple Cranberry Muffins
Healthy Recipe: Banana Apple Cranberry Muffins
I grew up loving Banana Nut Bread, and here's a twist on my mom's famous recipe. Since it includes additional fruit besides bananas I can use less sugar, so not only is it naturally sweet and flavorful but it's also full of fiber. Check out the recipe after the break.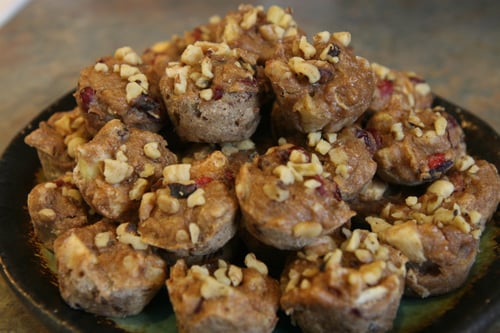 Banana Apple Cranberry Muffins
Mom's recipe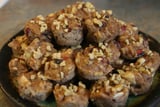 Ingredients
3 ripe bananas
1 apple
1 cup of dried cranberries
1 egg
1 tsp cinnamon
1 tsp salt
1 1/2 cups wheat flour
1/2 cup sugar
1/2 cup walnuts
oil (for the pan)
Directions
Preheat the oven to 325° F.
Peel all three bananas and mash them in a bowl with a fork.




Now peel and dice the apple and add that to the bowl with the mashed up bananas.




Add the egg, cranberries, cinnamon, and salt, and mix well with a fork.




Add the flour and sugar, and stir it all up until it's all moist and looks like this.




Now use the oil to grease two mini muffin pans. Spoon batter and fill up each hole all the way. Top with a sprinkle of walnuts.




Bake the muffins for about 20 minutes.




You'll have enough batter to fill another mini muffin tin, and maybe an additional half, making a total of 42 mini muffins.
Information
Category

Breads, Desserts

Cuisine

North American