Recipe For Banana Chocolate Almond Squares
A Reader Recipe: No-Bake Banana Chocolate Almond Squares
In the mood for something sweet? Take a cue from FitSugar reader LaurenMurphy, who posted this recipe for a sweet yet nutrition-packed no-bake dessert in our Healthy Recipe group.

I always crave something sweet and delicious at the end of the day (and in the middle of the day . . . and at the beginning of the day . . . OK, pretty much all the time!). However, the majority of sweet delicious things pack major calories and limited nutritional value! So this recipe is my solution; these squares can be used as a dessert or snack, are incredibly easy, and take about 10 minutes to make (not including chilling time).
All of the ingredients used are raw, meaning that you're ingesting all of their live vibrant enzymes. This recipe is not "technically" vegan, as I use raw honey (which has incredible anti-inflammatory properties!), but feel free to experiment with vegan sweeteners like maple syrup or agave.
Check out the recipe after the break!
Banana Choco Almond Squares
Ingredients
Bottom Ingredients:
1.5 cup walnuts
1 ripe banana
15 medjool dates
Top Ingredients:
1 ripe banana
4 tbsp almond butter
4 tbsp raw honey
1/4 cup raw cacao
Directions
Instructions:

1. Combine bottom ingredients in a food processor and process until well blended. There were some chunks remaining, but as long as it's predominantly smooth, you should be good.

2. Spread blended bottom ingredients in a glass pan. I put some plastic wrap in the bottom to make removing the bars from the pan once frozen so much easier! Spread out the mixture until evenly distributed.

3. Combine topping ingredients in a food processor and process until well blended, should be smooth. Beware, this stuff is dangerously delicious. Try and contain yourself from eating it all at once!

4. Spread blended topping ingredients over bottom ingredients in pan.

5. Place in the freezer for a couple hours.

6. Remove from pan, cut into squares and serve! (Makes 18 or so 1-inch squares).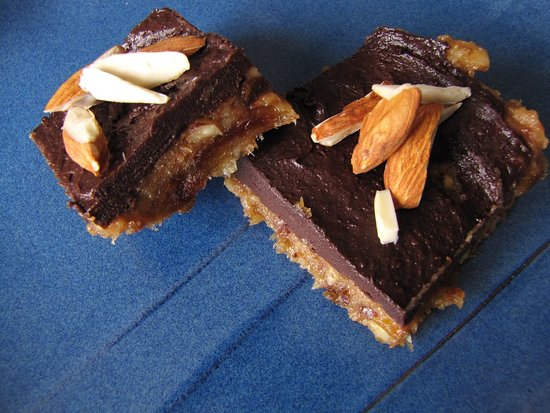 Enjoy!
Information
Category

Desserts

Cuisine

North American
Have a healthy way to satisfy a sweet tooth? Post it in our Healthy Recipe group in the Fit Community!