Recipe For Banana Cranberry Zucchini Muffins
Healthy Dessert: Banana Cranberry Zucchini Muffins
Holy zucchinis! I wanted to plant two different kinds in my garden, and since the seedlings came in packs of four, my eight plants are bursting with gorgeous green veggies. I've grilled it, stuffed it with quinoa, made Creamy Zucchini Boats, and pan-fried Zucchini Latkes, but this weekend I was in the mood for something sweet. I thought, why not combine two of my favorite bread recipes — zucchini and banana. The combination is more amazing than I thought it would be.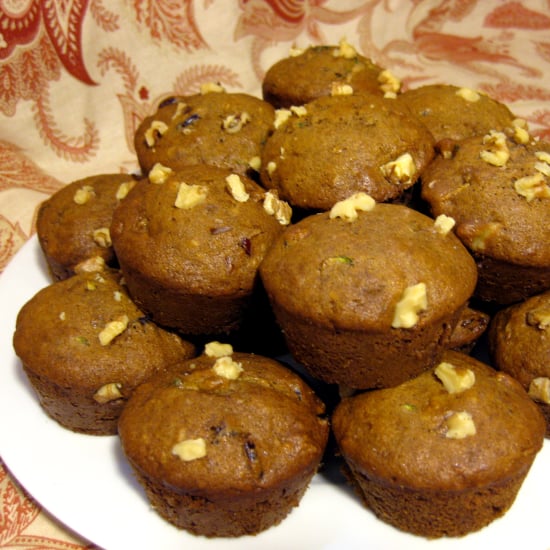 Interested in seeing my recipe? Then keep reading.
Banana Cranberry Zucchini Muffins
Original recipe
Ingredients
3 eggs
3/4 cup canola oil
1 cup Sucanat (or sugar)
1 1/2 cups shredded zucchini, squeezed dry
2 ripe bananas, mashed
2 teaspoons vanilla extract
3 1/2 cups whole wheat flour
1 tablespoon ground cinnamon
1 1/2 teaspoons baking powder
1 teaspoon baking soda
1/2 cup dried cranberries
1/2 cup walnuts
Directions
Preheat oven to 325° F. Lightly grease 24 muffin cups with cooking spray, or line with muffin papers.
In a large bowl, beat eggs until light yellow and frothy. Add oil, sugar, grated zucchini, bananas, and vanilla; blend together until well-combined. Stir in the flour, cinnamon, baking powder, and baking soda. Mix in the cranberries and 3/4 of the nuts.

Spoon batter into prepared muffin cups. Sprinkle with remaining nuts.

Bake muffins for 20 to 25 minutes or until a toothpick inserted into the muffin comes out clean. Cool on a rack.

Store uneaten muffins in an airtight container. Makes 24 muffins.
Information
Category

Breads, Muffins

Cuisine

North American
| | |
| --- | --- |
| Serving Size | 1 muffin |
| Calories | 176 |
| Total Fat | 9.1 g |
| Sat. Fat | 0.8 g |
| Cholesterol | 23 mg |
| Sodium | 61 mg |
| Carbs | 25.7 g |
| Fiber | 1.3 g |
| Sugars | 9.9 g |
| Protein | 3.4 g |
If you have a tasty and healthy dessert recipe to share, post it in the Healthy Recipe Group. With my sweet tooth, I'm always looking for new treats to create.