Recipe for Chickpea, Carrot, and Currant Salad
Healthy Recipe: Chickpea, Carrot, and Currant Salad
Beans are so healthy for us because of their high protein and fiber content, so if you're looking for a new way to prepare them, you've got to try this recipe. The carrots give it a crunchy texture, and the currants add a touch of sweetness. It's delicious on its own or topped on your garden salad. If you're curious to know how to make this refreshing bean salad
.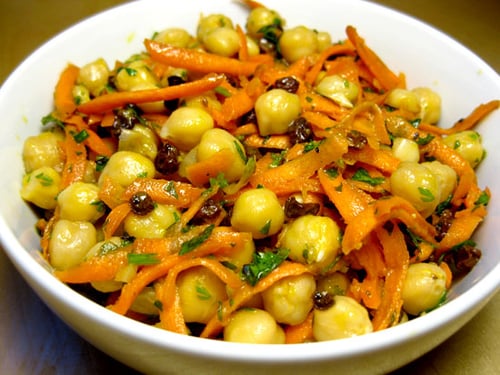 Chickpea, Carrot, and Currant Salad
an old family recipe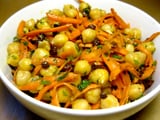 Ingredients
1 15-ounce can of chickpeas, rinsed
2 cups shredded carrots
1 cup currants
1/4 cup cilantro, chopped
1/4 cup parsley, chopped
2 tablespoons olive oil
1 tablespoon orange juice
1 tablespoon lemon juice
1/2 teaspoon caraway seeds
1/2 teaspoon coriander seeds, crushed
1/2 teaspoon cayenne
salt and pepper to taste
Directions
Mix the chickpeas, carrots, and currants in a bowl.
In a separate bowl, mix the rest of the ingredients. Pour this mixture over the chickpeas, carrots and currants. Mix well and refrigerate at least one hour in a sealed container before enjoying.
Makes about 10 half cup servings.
Information
Category

Vegetables, Salads