Recipe For Chickpeas and Cucumbers
Healthy Recipe: Roasted Chickpeas and Cucumber Salad
If you're dieting and looking for filling, high-fiber, low-fat fat foods, then the simple chickpea is a dream food come true. These beans have been shown to help dieters stay on track and avoid unhealthy snacks. Inspired by this news, I created a simple side dish featuring roasted chickpeas, because I think they taste so much better that way. This salad makes a perfect side dish or a light lunch.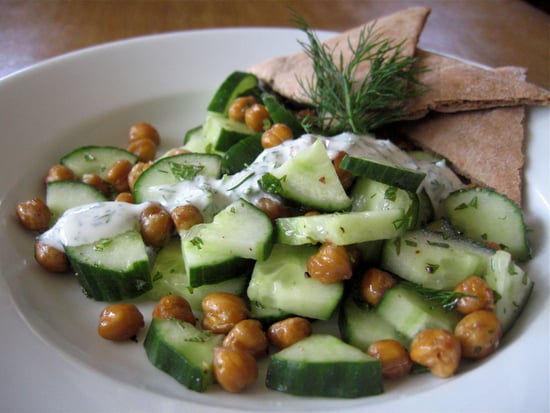 Cucumber and Roasted Chickpea Salad
From Susi May, POPSUGAR Fitness
Ingredients
1 15.5-ounce can chickpeas, well rinsed
4 cloves of garlic
2 teaspoons olive oil, divided
1 medium-sized English cucumber
2 tablespoons fresh mint, finely chopped
3 tablespoons nonfat Greek yogurt
juice of one lemon, about 2 tablespoons
3 tablespoons fresh dill, finely chopped
salt and pepper to taste
Directions
Preheat oven to 400 degrees F. Place chickpeas in a shallow roasting dish and cover with olive oil. Place unpeeled garlic cloves at edge of pan. Roast for 30 minutes, or until golden brown, stirring occasionally.
Chop cucumber into quarter-inch-thick disks. Then quarter the disks. Place in medium size bowl and set aside.
Whisk remaining teaspoon of oil with mint. Pour over cucumbers.
Place peeled roasted garlic in a small bowl and combine with lemon juice. Mix well. Add Greek yogurt and whisk together well. Salt and pepper to taste.
When chickpeas are cool, add to dressed cucumbers.
Divide cucumber-chickpea mixture evenly onto four plates and spoon yogurt dressing over the mixture. Serve with toasted whole wheat pita bread.
Serves 4.
Calories: 174, Protein 6.7 g, Fat 3.6 g, Fiber 5.9 g, Sodium 330 mg, Carbs 29.9 g
Information
Category

Vegetables, Salads

Cuisine

Mediterranean/Middle Eastern