Recipe From Celeb Trainer Harley Pasternak's Five Factor World Diet
Book Review: The 5 Factor World Diet by Harley Pasternak
Celeb trainer Harley Pasternak has traveled the world while keeping A-list celebs in A-plus shape, and he took some notes on international eating habits while on the road. Harley has turned his studies into the 5 Factor World Diet ($25), equal parts cross-cultural study and cookbook. The book makes for an interesting read and some tasty meals.
Pasternak selected 10 countries with the lowest obesity rates and highest life expectancies and studied what they eat, how they eat it, and how they burn it off. His world diet includes chapters on each country's dietary staples and food philosophies, including Japan, Singapore, Sweden, France, and Israel. The chapters are peppered with tips from each nation, like in Japan there is an emphasis on food presentation as well as flavor. We also learn that Swedes practice lagom, which means "just enough," eating until they are satisfied but not full. We learn that cabbage is popular in both Japan and Sweden and that yogurt is a staple in France as well as Israel.
Harley has taken popular dishes from each country to create the recipe portion of the book as well as a month of meal planning. His diet philosophy centers on the number five: you eat five small meals a day (or three meals and two snacks) to stabilize insulin levels; all meals need to meet the following five nutritional criteria and contain protein, carbs (healthy whole grains of course), fiber (5 to 10 grams in every meal), healthy fats, and a low-calorie, sugar-free beverage. His recipes are simple, using only five main ingredients or less. You can learn about the ins and outs of his diet plan at his website.
I tested a recipe last night, the Chinese 5-Spice Halibut, since it pays tribute to the number five. To see the recipe, just read more.
Five-Spice Halibut
Harley Pasternak's 5 Factor World Diet
Ingredients
1 teaspoon finely grated lime zest
2 tablespoons fresh lime juice
1 teaspoon olive oil, divided
2 teaspoons peeled and minced ginger
1/2 teaspoon Chinese five-spice powder
2 halibut fillets (about five ounces each)
4 ounces sugar snap peas
2 cloves garlic, sliced
1 1/2 cups cooled brown rice, warmed
Directions
In a medium nonreactive bowl, combine the lime zest, lime juice, oil, ginger, and five-spice powder. Add halibut and turn to coat. Refrigerate for 30 minutes or up to two hours.
Coat a medium nonstick skillet with cooking spray. Add the fish; cook for four minutes per side, until just cooked through. Transfer to a platter; cover to keep warm.
In the same skillet over medium heat, cook the peas for 4 minutes, until tender-crisp, stirring often. Add the garlic; cook for one minute.
Serve the halibut and peas atop the rice.
Serves two.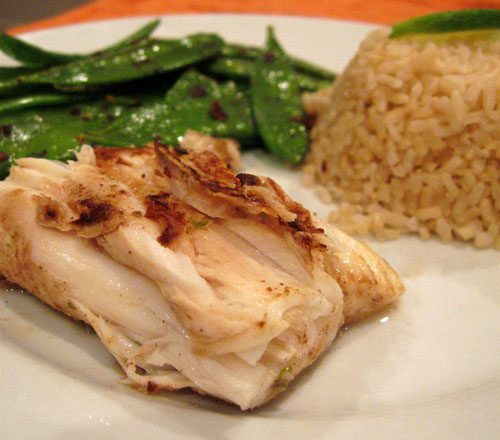 Information
Category

Main Dishes

Cuisine

Chinese
The meal was tasty (I will definitely be making it again) and the ingredient list is indicative of most of the others in the book: low in fat, low in salt, high in spice. The book is definitely a primer on clean cooking. I do wish there were photos of some of the dishes since I find them inspirational when perusing a cookbook. Harley is not into calorie counts, but I am still curious about the nutritional makeup of each of the dishes. There are a few details omitted from recipes, like how high the flame should be to cook the fish in the recipe above, and the ingredient olive oil is followed by the word "divided," which is confusing because the ingredient is listed once in the directions.
The recipe I prepared was easy to make, and many other recipes look enticing: Eggplant Caponata from Italy, Herb Falafel from Israel, and Swedish Pancakes with Raspberries. I like the idea of exploring other cultures' health habits in the kitchen, knowing I am not going to be racking up the calories while doing so since the recipes were prepared by healthy living guru.