Recipe For Frozen Raspberry Pie
Valentine's Dessert: Frozen Raspberry Creamy, Dreamy Pie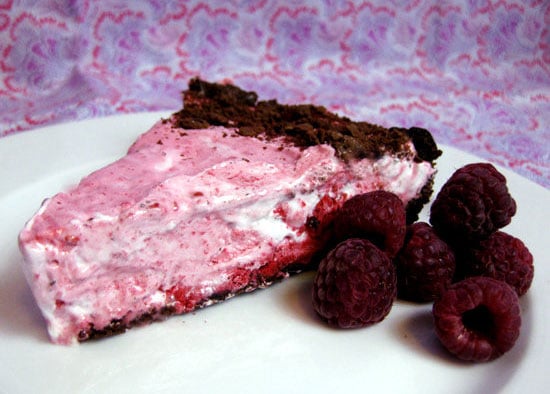 Whether you're celebrating Valentine's Day with a special someone, friends, or family, or you're going solo, this holiday just isn't the same without delving into a sweet, creamy, dreamy treat. I know you don't want to burst out of your new Valentine's Day outfit, so here's a frozen dessert that's full of fresh flavor and a luscious texture that screams decadence, but won't break the calorie bank.
Continue reading to learn how to make this frozen raspberry pie.
This dessert takes about eight hours to freeze, so if you want to enjoy it on Valentine's Day, prepare the pie the day before.
Ingredients
Crust:
32 chocolate wafers, (about 6 1/2 ounces; see note), plus 1 for garnish
1/4 cup confectioners' sugar
2 tablespoons canola oil
2 tablespoons skim milk
1 tablespoon butter
Filling:
3 cups raspberries, fresh or frozen (thawed)
2 tablespoons lemon juice
1/4 teaspoon salt
2 large egg whites, at room temperature (see tip below)
1/2 cup granulated sugar
1/2 teaspoon cream of tartar
Fresh raspberries for garnish
Directions
Preheat oven to 350°F. Coat a nine-inch pie pan with cooking spray.
To prepare crust: Process 32 wafers, confectioners' sugar, oil, milk, and butter in a food processor until finely ground. Using wax paper, press the mixture into the bottom and up the sides of the prepared pan, creating an even, dense crust. Bake for 12 minutes. Cool on a wire rack to room temperature, about one hour, pressing any puffed parts of the crust back into the pan.

To prepare filling: Meanwhile, puree raspberries, lemon juice, and salt in a blender or food processor until smooth. Strain through a fine-mesh sieve into a medium bowl, pressing with a rubber spatula to extract the juice. Discard the seeds.
Bring one inch of water to a slow simmer in a large saucepan. Combine egg whites, granulated sugar, and cream of tartar in a three-quart stainless-steel bowl. Beat with an electric mixer on medium speed until foamy. Set the bowl over the simmering water and continue to beat on medium speed, moving the mixer around, until the mixture is glossy and thick, about three and a half minutes. Increase the speed to high and continue beating over the simmering water until very stiff and glossy, about three and a half minutes more (the eggs will be at a safe temperature, 160°F, at this point). Remove from the heat (be careful of the escaping steam) and continue beating on medium speed until room temperature, three to five minutes.
Fold the raspberry puree into the meringue until combined. Pour the raspberry filling into the pie crust. Crumble the remaining chocolate wafer over the top. Place the pie on a level surface in your freezer and freeze until solid, at least six hours, but eight is much better. To serve, let the pie stand at room temperature until softened slightly, about 10 minutes, before slicing.

Note: Look for chocolate wafer cookies without any partially hydrogenated oils. Our two favorites were both from Newman's Own Organics: Tops & Bottoms and Chocolate Alphabet Cookies. Chocolate Snaps from Mi-Del will also work, but the chocolate flavor isn't as rich.
Tip: To get the most volume from beaten eggs, it's best for them to be at room temperature. Either set the eggs out on the counter for 15 minutes or submerge them in their shells in a bowl of lukewarm (not hot) water for five minutes.
Makes eight servings.
Information
Category

Desserts, Pies/Tarts

Cuisine

North American
| | |
| --- | --- |
| Serving Size | 1/8 of pie |
| Calories | 220 |
| Total Fat | Seven grams |
| Saturated Fat | One gram |
| Cholesterol | Four milligrams |
| Sodium | 165 milligrams |
| Carbs | 37 grams |
| Fiber | Four grams |
| Sugars | 25 grams |
| Protein | Three grams |
| Potassium | 126 milligrams |