Recipe For Granola Bar Cookie With Quinoa, Apricots, and Nuts
Treat Yourself: Quinoa, Apricot, and Nut Clusters
I love baking, but too many cookies are bad for the chef. I was happy to find this recipe in the Power Foods cookbook, which is more like a chewy granola bar in a cookie shape than an actual cookie. The recipe features my new favorite grain quinoa along with oats, pistachios, sunflower seeds, and dried apricots. It's the perfect treat after a run.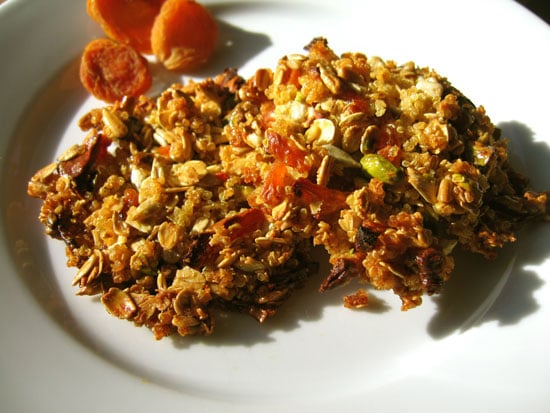 Ready to get baking? Here's the recipe.
Quinoa, Apricot, and Nut Clusters
Ingredients
1 1/2 cups water
3/4 cup white quinoa, rinsed and drained
1 1/2 cups old-fashioned rolled oats (not instant)
1/2 cup raw shelled sunflower seeds
1/2 cup shelled pistachios, coarsely chopped
1 cup dried apricots, preferably unsulfured, thinly sliced
1/4 cup sugar
1/2 teaspoon coarse salt
1/4 cup honey
2 tablespoons neutral tasting oil, such as canola or safflower
1 1/2 teaspoon pure vanilla extract
2 large eggs plus 1 large eggs white, lightly beaten
Vegetable oil cooking spray
Directions
Preheat over to 350 degrees F. Bring the water to a boil in a small saucepan. Add quinoa; return to a boil. Stir once; cover, and reduce heat to a simmer. Cook until quinoa is slightly underdone (it will finish cooking in the oven) and has absorbed most of the liquid, about 12 minutes. Using a slotted spoon, transfer quinoa to a rimmed baking sheet. Bake, fluffing with a fork occasionally, until pale golden, 30 to 35 minutes. Transfer to a large bowl, and let it cool.
Spread oats evenly on the baking sheet; bake stirring occasionally, until lightly browned, about 15 minutes. Add oats to bowl with quinoa. Spread seeds on baking sheet; bake, stirring occasionally, until lightly toasted, about 7 minutes. Add to quinoa mixture; let cool. Reduce oven temperature to 300 degrees F.
Toss nuts, apricots, sugar and salt with quinoa mixture. Mix honey, oil, and vanilla into eggs; stir into quinoa mixture.
Line an unrimmed baking sheet with parchment paper; lightly coat with cooking spray. Place 1/4 cup mixture onto sheet for each cluster spacing them 3 inches apart. Flatten to 1/4 inch thick. Bake, rotating sheet halfway through, until crisp, about 25 minutes. Let cool completely on a wire rack. Store loosely covered with aluminum foil, for up to 2 days, at room temperature
Makes 20; serving size 2 clusters
Nutritional information per serving: 329 calories, 3.4 g saturated fat; 7.2 unsaturated fat; 42.3 mg cholesterol, 49 g carbohydrates; 10 g protein; 139 mg sodium; 5 gram fiber
Information
Category

Desserts

Cuisine

North American
Got a similarly delicious recipe? Head on over to the Healthy Recipe community group and share one of your own.