Recipe For Healthy Seven Layer Salad
Healthy Recipe: Seven-Layer Salad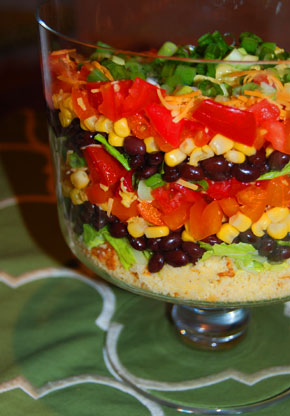 You've heard of seven-layer dip, but how about a seven-layer salad? If you want to impress your friends and fellow diners with a gorgeous dish that will satiate the tummy while providing a good dose of protein and essential vitamins, look no further than this light and healthy meal. Served up in a pretty trifle bowl, the vibrant vegetables situated in a rainbow strata looks troublesome to make, but is quite easy to manage and is filling enough for a luncheon with the girls or dinner with the family. Are your taste buds watering yet?
Come get the delish recipe and check out the nutritional value.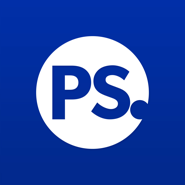 Seven-Layer Salad
Original Recipe
Ingredients
Salad:
1 box of Jiffy cornbread
2 cups of chopped romaine lettuce
1 can of black beans rinsed and drained
1 can of corn drained
1 orange bell pepper diced
1 cup tomatoes diced
1 cup shredded low-fat cheddar cheese
2 stalks chopped green onions for garnish
Dressing:
1 avocado
1/4 cup cilantro
1/2 jalepeño
2 limes (juice)
1 tbsp olive oil
1/2 tsp cumin
1/4 tsp garlic salt
Directions
Dressing:
Combine all of the dressing ingredients in a blender and pulse it until the cilantro is well blended into the lime juice and avocado.
Seven-layered salad:
Cook the Jiffy cornbread according to box directions. Set aside and let cool. Cut in half and break half of it up into small crumbs. Layer the bottom of a dish (a trifle bowl is preferable) with the crumbled cornbread.
Add half of the romaine lettuce on top of the cornbread for the second layer.
Next, add half of the black beans.
On top of the beans, add half of the corn.
After the corn, pile on half of the bell peppers.
Following the bell peppers, sprinkle half of the tomatoes on top.
Toss half of the cheddar cheese on top of the tomato layer.
Drizzle half of the dressing onto the salad.
Repeat steps 2 through 8.
Finally, place the green onions on top of the salad and enjoy!
Serves 8.
Information
Category

Vegetables, Salads
| | |
| --- | --- |
| | Seven-Layer Salad |
| Calories | 216 |
| Total Fat (g) | 9 |
| Carbs (g) | 27 |
| Fiber (g) | 6 |
| Sugar (g) | 2 |
| Protein (g) | 9 |