Recipe For Low Calorie, Lowfat Granola
Healthy Recipe: Low Cal Chai Spiced Granola
I love a little granola in the morning. It naturally sweetens my bowl of Greek yogurt, a breakfast staple loaded with protein but a bit on the sour side. Problem is, my favorite granola is packed with calories and fat. I decided to create my own recipe using a bunch of spices to add flavor without calories while omitting the oil which adds fat. I added warming spices, many of which can be found in chai tea: cinnamon (a granola must in my opinion), nutmeg, cardamom, and cloves. My kitchen smelled divine as the granola baked, and I definitely cut a significant number of calories of the total calorie tally, as well as halving the grams of fat.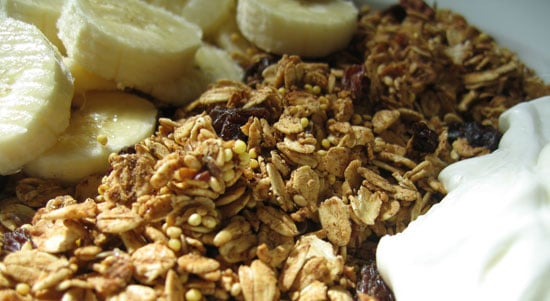 Check out the recipe when you read more.
Ingredients
3 cups organic oats (not instant)
1/4 cup uncooked millet
1/4 cup sesame seeds
1/8 cup flax seeds
1/4 cup chopped pecans
1 1/2 teaspoons cinnamon
1/4 teaspoon ground nutmeg
1/4 teaspoon ground cardamom
1/8 teaspoon ground cloves
1/4 cup diced dried sour cherries
1/4 cup raisins
1/4 cup maple syrup
1/4 cup orange juice
Directions
Heat oven to 300F. In a large bowl, combine all dry ingredients except dried fruit. Drizzle in the maple syrup, stir well. Add orange juice stirring so all ingredients are coated. If mixture seems too dry add in some more maple syrup and/or orange juice.
Spread the mix out onto a large, low rimmed baking dish and bake for 30 minutes, stirring checking about every 10 minutes so nothing burns. Add in the raisins and cranberries and bake until the granola turns golden and crisp, about five to seven minutes.
Remove from oven and cool completely. Store in an airtight container. Serve with fresh fruit and yogurt.
Makes 8 half cup servings.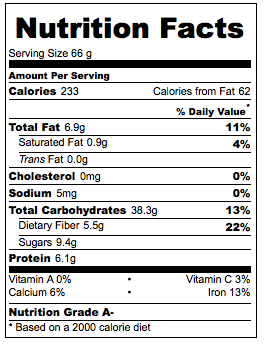 Information
Category

Breakfast/Brunch, Granola

Cuisine

North American


The Mister wanted me to name the homemade cereal Goa Granola, in honor of the cardamom. Cute, no? Make it and let me know if you come up with a catchy name. If you have a tasty, cleaned-up recipe be sure to add it to our Healthy Recipe Group.