Recipe For Lower Fat Peanut Butter Raisin Spread
Snack Attack: Lower Fat Peanut Butter Raisin Spread
I used to be addicted to peanut butter. I ate it on apples, on bread, on pretzels, on ice cream, and even straight-up on a spoon drizzled with a little honey. I thought it was OK to devour gobs and gobs of the peanut buttery goodness because it was made from all natural peanuts. Then I realized there are over 200 calories in a two-tablespoon serving. No wonder I was gaining weight way back in college.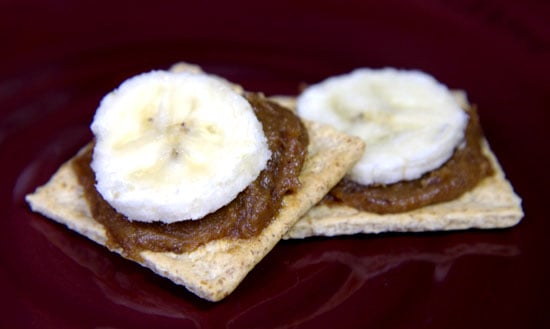 If you're a huge fan of peanut butter, here's a healthier version you can spread on your crackers and bananas till your heart's delight. The consistency is smooth, yet a little chewy, and the flavor is phenomenal. Since it's made with peanut butter it's not low in calories or fat, but it's lower than regular peanut butter for sure. To see my simple recipe, keep reading.
Ingredients
3/4 cup raisins
1 cup applesauce
1 tablespoon ground cinnamon
1 cup natural creamy peanut butter
Directions
Put the raisins, applesauce, and cinnamon in a small saucepan and bring to boil; reduce heat to medium and simmer for eight to 10 minutes or until raisins have plumped up.
Place mixture in a food processor. Add the peanut butter and pulse until smooth.
Spread onto whole wheat crackers, bread, fruit slices, or celery sticks.
Makes 1 3/4 cups of spread.
Information
Category

Other, Condiments/Sauces

Cuisine

North American
2 tbsp. natural creamy peanut butter
2 tbsp. peanut butter raisin spread
Calories
210
152
Total Fat (g)
16
9.2
Saturated Fat (g)
2.5
1.4
Sodium (mg)
120
70
Carbs (g)
6
11.9
Fiber (g)
2
1.9
Sugars (g)
1
6.9
Protein (g)
8
4.9