Recipe For Pineapple Ginger Fruit Dip
Snack Attack: Pineapple Ginger Fruit Dip
If warmer weather has you craving fresh juicy fruit, here's a way to jazz it up. This fruit dip is made with low-fat cream cheese and nonfat Greek yogurt, so it's decadently creamy without a ton of saturated fat or calories. The flavor of fresh grated ginger and a hint of maple syrup complement the fruit so well. Make it for your next dinner party appetizer or as an afternoon snack.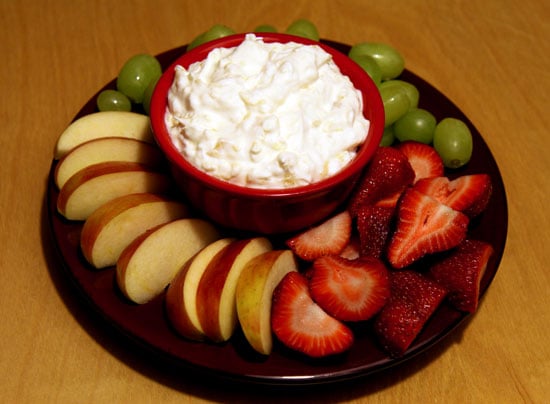 To learn how to create this simple recipe, read more.
The photo above shows about 2/3 of the dip recipe, so it definitely makes a good amount of dip. If you don't need that much, just halve the recipe.
What you'll need:
8 oz. soft low-fat cream cheese
1 cup plain Greek yogurt
2 teaspoons fresh ginger
2 tablespoons real maple syrup
8 oz. crushed pineapple
What to do:
Beat the cream cheese with the Greek yogurt. Add the ginger, maple syrup, and pineapple and stir until thoroughly mixed.
Chill for one hour, and serve with fresh sliced fruit.
Check out the nutritional info below. This dip is actually healthy!
| | |
| --- | --- |
| Serving Size | 1/8 of the dip |
| Calories | 70 |
| Total Fat | .9 g |
| Sat. Fat | .6 g |
| Cholesterol | 3 mg |
| Sodium | 162 mg |
| Carbs | 9.9 g |
| Fiber | 0 g |
| Sugars | 6.8 g |
| Protein | 6.1 g |
If you have a tasty and healthy snack recipe to share, post it in the Snack Attack Group. We could all use some new ones to try.