Recipe For Polenta With Beans and Veggie Sausage
Hearty Breakfast: Polenta With Beans and Veggie Sausage
Polenta is a huge hit for dinner at my house, especially when I make polenta pizzas. This corn-based food is also great for other meals of the day, and recently I concocted this yummy dairy-free breakfast dish. It's so simple to make, and since it has beans, veggie sausage, and eggs, it's also high in protein.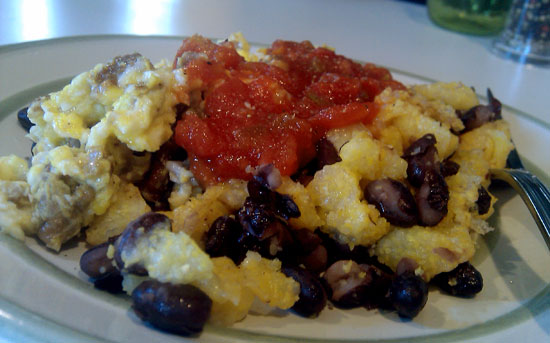 For details on how to make this breakfast, read more.
Polenta With Beans and Veggie Sausage
original recipe
Ingredients
1/2 tube Green Chile & Cilantro Ancient Harvest Polenta
1 cup black beans
2 veggie sausage patties (I used Morningstar Farms), diced
2 eggs
8 tablespoons Newman's Own Organic Chunky Salsa, medium
Salt and pepper to taste
Directions
Place the half a tube of polenta in a pan and flatten it down with a fork, cooking it over medium heat until soft. Add the beans and mix thoroughly. Cook for another few minutes and them remove from heat.
In a separate pan, heat the cut up veggie sausage. Add the two eggs and stir. Remove from heat once the eggs are scrambled.
Scoop the polenta mixture onto four plates. Divide the eggs and place on the polenta and beans. Add two tablespoons salsa on top of each. Serve hot and enjoy!
Information
Category

Eggs, Breakfast/Brunch

Cuisine

North American
| | |
| --- | --- |
| Serving Size | 1/4 of recipe |
| Calories | 294 |
| Total Fat | 4.4 g |
| Sat. Fat | 1.1 g |
| Cholesterol | 93 mg |
| Sodium | 325 mg |
| Carbs | 45 g |
| Fiber | 8 g |
| Sugars | 4.4 g |
| Protein | 19.5 g |
If you have a tasty and healthy breakfast recipe to share, post it in the Healthy Recipe Group. We could all use some new dishes to try.