Recipe For Quinoa Salad With Dried Apricots and Tofu
Healthy Dinner: Quinoa Salad With Dried Apricots and Tofu
In the Winter I crave warm, filling foods like soups and casseroles, and in the Summer, my taste buds long for recipes made with fresh veggies. In the Spring, I'm all about dishes that combine the two, and here's one made with quinoa, tofu, and three of my favorite veggies. It's seasoned with cumin, fresh ginger, and dried apricots, so it has a sweet and savory flavor.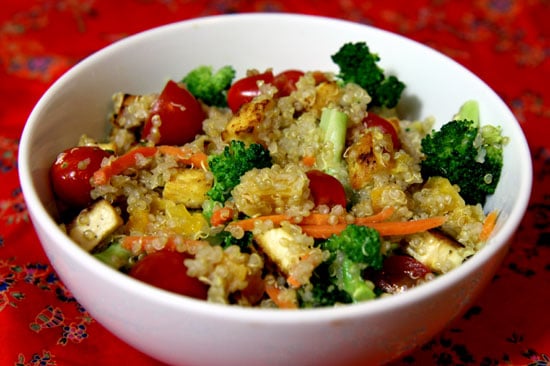 When I figured out the nutritional info, I was blown away by how low in calories and high in protein this tasty dish is. To see this simple recipe that will take about 30 minutes to prepare, read more.
Quinoa Salad With Dried Apricots and Broccoli
original
Ingredients
1 cup quinoa
2 cups vegetable broth
1/2 cup dried apricots, coarsely chopped
1 1/2 cups carrots, shredded
1 teaspoon cumin
1/2 teaspoon fresh grated ginger
1 tablespoon olive oil
2 cloves garlic, minced
16-ounce container tofu, cubed
Salt and pepper to taste
1 1/2 cups broccoli
1 cup grape tomatoes, halved
Directions
Add quinoa and veggie broth to a pot, cover and heat on high. Turn to simmer once it starts to boil. After 10 minutes, add the chopped apricots, carrots, cumin, and ginger.

In a saucepan add olive oil and cubed tofu. Sprinkle on minced garlic, salt and pepper. Cook on medium heat until lightly browned, stirring often to prevent burning.

Add broccoli and cook a few minutes until tender.

Remove from heat and mix everything together. Add the grape tomatoes, serve warm, and enjoy! Makes four servings.
Information
Category

Vegetables, Salads

Cuisine

North American
| | |
| --- | --- |
| Serving Size | 1/4 recipe |
| Calories | 334 |
| Total Fat | 11.9 g |
| Sat. Fat | 2 g |
| Cholesterol | 0 mg |
| Sodium | 440 mg |
| Carbs | 40.3 g |
| Fiber | 7 g |
| Sugars | 6.4 g |
| Protein | 19.8 g |
If you have a tasty and healthy dish to share, post your recipe in the Healthy Recipe Group. I'm always looking for new dishes to try.