Recipe Review: Banana PMS Muffins from Women's Health
Recipe Review: Banana PMS Muffins from Women's Health
Flipping through Women's Health, I saw a recipe for PMS muffins. How could I not be intrigued? If a muffin could help ease my symptoms, I could become a baking maniac instead of the usual PMS maniac I become. I baked these Banana Walnut Yogurt muffins and can't tell about my mood yet, but I liked these muffins, as did my hubbie and 3-year-old. My kindergartner is a little picky and abstained from her muffin at breakfast. For a mainstream magazine, I was surprised by some of the ingredients and had to make a special stop to find rice flour and flax meal, because these ingredients were not available at my local grocery.
To see what other ingredients make these muffins PMS fighters,
.
These banana muffins provide "cramp-busting potassium" along with calcium and vitamin D, which together can decrease PMS symptoms upwards of 40 percent.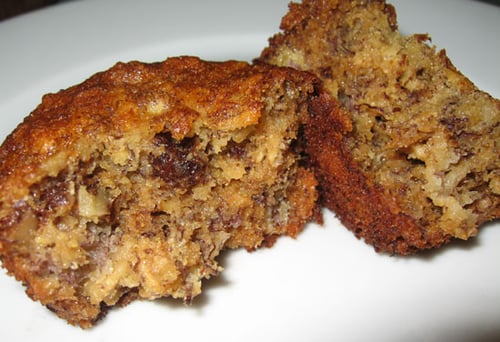 Banana Yogurt Walnut Muffins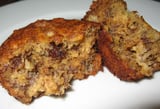 Ingredients
1 1/4 cup oatmeal
1/2 cup rice flour
1/4 cup ground flaxseed
1 tsp baking powder
1 tsp baking soda
2 eggs, beaten
1/4 cup plain yogurt
3 medium, ripe bananas, mashed
1/2 cup agave syrup
1/3 cup grapeseed oil
1/4 cup walnut pieces
Directions
Preheat oven to 375°F.
In a large bowl, whisk together oatmeal, flour, flaxseed, baking powder, and baking soda.
In a separate bowl, combine eggs, yogurt, bananas, syrup, and oil. Add flour mixture and fold in walnuts.
Divide batter into paper-lined muffin cups. Bake for 20 to 22 minutes or until tops spring back when lightly touched. Cool on a wire rack.
Makes 18. Per muffin: 147 cal, 7 g fat (1 g sat), 103 mg sodium, 20 g carbs, 2 g fiber, 3 g protein
Information
Category

Breads

Cuisine

North American
My muffins look nothing like the lovely muffins photographed in the magazine recipe. I had to seriously stretch the batter to make 17 muffins and none of the muffins rose over the edge of the muffin tray. Although they looked short and flat, they were fluffy and light on the inside. I must add that they didn't taste "healthy" but they could use a little more flavor, maybe cinnamon or some lemon zest. I will make these muffins again. Let me know if you do. Do you have a healthy snack or recipe to share? Then share it in the Lite'n it Up - Healthy Recipe Group and I might just post it on FitSugar.