Recipe For Spring Salad With Artichokes, Tuna, Mushrooms, and Thyme Vinaigrette
Healthy Recipe: I Heart Artichokes Salad With Tuna
March means it's time to start mixing Spring salads, and since artichokes are one of my must haves this month, allow me to tempt you with this big green bowl of Mediterranean flavors. This salad uses canned artichoke hearts, so you can make it even when the veggie isn't in season. The hearts still offer health benefits, including lots of fiber and B vitamins. Toss half a bag of baby spinach (or a spinach/baby lettuce blend) with some antioxidant-laden mushrooms, sun-dried tomatoes, and carrots, then add some water-packed tuna for protein. If you don't eat fish, the salad is still delicious without it. Spice it all up with a vinaigrette that uses fresh thyme and a tiny bit of hot sauce. The result is a salad that tastes decadent but delivers a diversely nutritious punch. To get the recipe,
.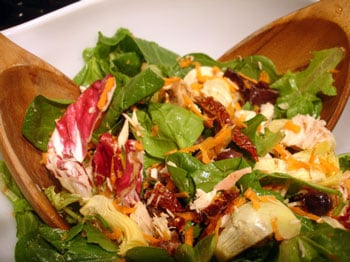 Artichoke, Tuna, and Mushroom Salad With Thyme Vinaigrette
Original Recipe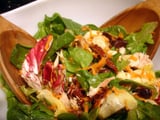 Ingredients
For dressing
1 teaspoon Dijon mustard
1/2 clove of roasted garlic, minced
1 tablespoon white wine vinegar
2 dashes hot pepper sauce, such as Tabasco
1 pinch sugar
1/4 teaspoon salt
1/2 teaspoon fresh thyme
Pepper, to taste
2 tablespoons olive oil
For salad
3 ounces baby spinach or baby spinach/lettuce mix
7 ounces artichoke hearts, drained and quartered
3 ounces brown or white mushrooms, ends trimmed and thinly sliced
5 medium sun-dried tomatoes, drained of oil and cut into strips
3 ounces chunk white or albacore tuna in water, drained
1/2 cup nicoise olives
1/2 carrot
Directions
Makes 2 entree-size salads.
Make the dressing: In a small bowl, combine first 8 ingredients and mix well with a whisk. Gradually add olive oil, whisking until emulsified.
In a large salad bowl, combine spinach, artichoke hearts, mushroom slices, sun-dried tomatoes, tuna, and olives. Using a cheese grater, shred the carrot on top.
Add dressing and toss to combine.
Information
Category

Greens , Salads

Cuisine

Italian