Recipes With Turmeric
It's Time to Add Turmeric to Your Diet — How to Do It Deliciously
If your spice cabinet is missing turmeric, then it's time to add it to your shopping list. Turmeric has a host of healthy properties: the spice is an anti-inflammatory and contains antioxidants, helps promote healthy blood and liver, boosts your immune system, and helps lower cholesterol. And a recent study found that turmeric may also help lower the risk of diabetes in those who have high blood-sugar levels. Want more reasons to add turmeric to your diet? Here are some delicious recipes you'll want to make.
Curried Tomato Soup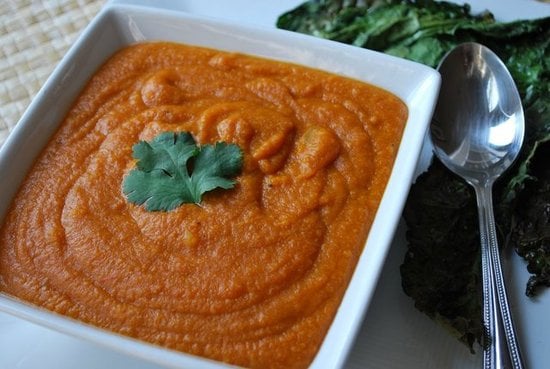 You don't need to buy premade curry powder for this curried tomato soup recipe; a mixture of turmeric, cumin, coriander, and cinammon imparts the right amount of spice without losing the authentic taste.
Six-Spiced Nuts

Add an even more healthy kick to your afternoon snack by making these six-spiced nuts; from the turmeric to the cinnamon to the nuts' healthy fats, this snack offers more than a few heart-healthy benefits.
Read on for two more turmeric-spiced recipes.
Cheesy Vegan Quinoa Casserole

Satisfy cheese cravings without the dairy with this vegan quinoa casserole; the secret is in the "cheesy" sauce, made with squash, nutritional yeast, turmeric, and other ingredients.
Vegan Zucchini Tomato Chickpea Curry

Sometimes the only thing that will beat the heat is a big bowl of spicy curry. The zucchini chickpea tomato curry from Eat, Drink, and Be Vegan is one of our favorites.