Recommended Vaccines For Adults
Are You Up to Date on All Your Shots? What You Need to Know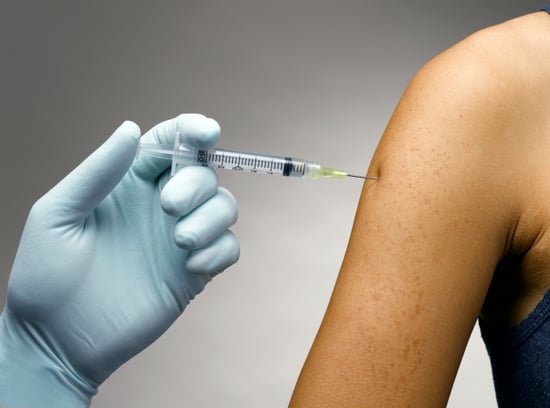 While February is the month when most people get the flu, hopefully you've already gotten your annual flu shot. But what about the rest of the lesser-known recommended vaccines for adults?
Recently I was surprised when during a routine appointment my doctor told me that because of a recent whooping cough outbreak I should get a Tdap shot, which also contains the booster doses for tetanus and diphtheria. I never think about nonflu vaccines very much, so I probably wouldn't have known that people my age needed one if she hadn't said anything.
I'm sure many of you are the same. In fact, adult vaccinations are so much lower than they should be that a recent CDC study found that most clinics don't even stock all the required vaccines for adults. But, actually, the CDC recommends that we get certain vaccinations long after we turn 18.
Want to know which vaccines you may need to get? Read on to see if you're up to date on your shots.
If you're healthy, between 26 and 60, and have had chicken pox, essentially the only vaccines you need to worry about are the annual flu shot and a tetanus/diphtheria/whooping cough (Tdap) shot every 10 years. Tetanus causes muscle spasms and even death and can be contracted from broken skin coming in contact with animal waste, dust, and soil, so if you're an avid outdoor fitness fiend, make sure you've gotten that once-decade booster!
Check out the rest of the recommendations below and more explanation at the CDC website.
| | |
| --- | --- |
| Vaccine | CDC Recommendation |
| Flu | Every year |
| Td/Tdap | Every 10 years |
| Chicken pox | Recommended for adults 19 and older if they've never received the vaccine or had the disease |
| HPV | Recommended up to age 26 |
| Shingles | Recommended for adults 60 and older |
| MMR (measles, mumps, and rubella) | Recommended up to age 50 if never received the vaccine, or for older adults with certain risk factors |
| Pneumonia | Recommended for adults with certain risk factors, or adults 65 and older |
| Hepatitis A | Recommended for adults with certain risk factors |
| Hepatitis B | Recommended for adults with certain risk factors |