Recovery Run to Reduce DOMS
Your Long-Run Recovery: Another Run to Soothe Sore Muscles
If you've been upping your normal weekly mileage with a long, endurance-challenging run, then you probably have both a renewed appreciation for running as well as a lot of sore muscles. Sometimes the best way to recover is scheduling a recovery jog the day after a strenuous run.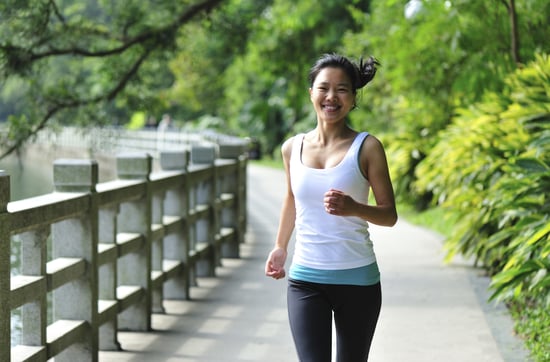 Delayed onset muscle soreness (DOMS) usually peaks a couple days after an intense workout; while anything too strenuous can make the pain worse — or lead to injury — doing light cardio can help repair and soothe the muscles.
Cardio increases blood flow to the muscles while also helping to provide much-needed nutrients. "It brings oxygen, protein, and iron to the muscles that you've been training and helps them recover faster. As the blood leaves the muscles, it takes some of the metabolic byproducts with it (like carbon dioxide and lactic acid) that may be causing DOMS," says trainer Harley Pasternak. Follow up with some well-needed stretching, which will help break up knots and increase circulation, to help further shorten the amount of time you experience DOMS.
So if you're planning a long run this weekend, then follow it up the next day with some easy cardio, like a slow jog, a leisurely hike, or a walk. Learn more ways to recover from DOMS here.