Recovery Sleep Does Undo Some Damage
New Study Finds "Recovery Sleep" Can Undo Some Damage
Good news! It turns out there is some validation behind unexpectedly sleeping until noon on Saturdays after an especially hectic week. A new study found that periods of "recovery sleep" can undo damage caused by sleep deprivation.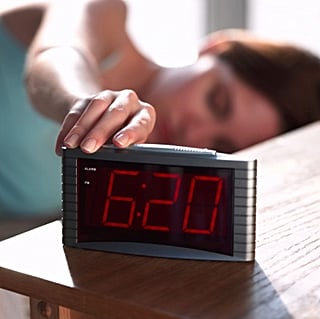 Researchers studied 150 otherwise healthy adults aged 22 to 45 who regularly slept six and a half to eight and a half hours per night. At the start of the study, participants slept 10 hours for two nights in a row to reduce any prior sleep deficits. Then participants were only allowed to sleep for four hours a night for five days. Researchers recorded their daily levels of alertness and neurobehaviors each day. Finally on the last day, researchers allowed participants to sleep for 10+ hours, finding that this recovery period restored the subjects' alertness and ability to concentrate during the day.
While one night of recovery sleep was enough to undo some of the damage of not getting enough sleep during the week, researchers caution against consistently employing this strategy. "Getting recovery sleep is important and that may take more than a day," said one of the study's authors, adding it's better to get enough sleep than to rely on a night or two of recovery — "Prioritize sleep!"