Reduce Cancer-Causing Chemicals in Your Burgers With These Ingredients
Spice Up Your Grilled Burgers and Reduce Your Cancer Risk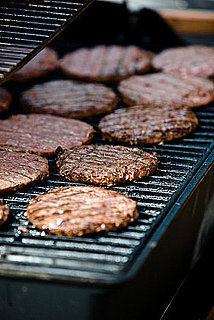 With Memorial Day kicking off the unofficial start to grilling season, it's likely there are plenty of burgers in your near future. Unfortunately, cooking meat at high temperatures (like grilling) can create carcinogenic chemicals known as heterocyclic amines (or HCAs), which have been linked to cancer risk. The good news? Certain add-ins can make your meat much safer to cook — and more flavorful, too!
Studies have found that adding rosemary to uncooked meat will greatly reduce the amount of HCAs found in your beef after cooking, attributed to the antioxidant carnosol. If rosemary isn't your thing, there are other ingredients that work, too. To find out what they are, keep reading.
Fingerroot Also called Chinese ginger, this spice is found mainly in Asian dishes, and gets its name from its shape. A study from the Kansas State University found it also aids in reducing HCAs in cooked meat.
Turmeric The same study found that turmeric, an Indian spice found in many curries and known for its yellow color, can reduce carcinogenic chemicals.
Garlic and onion You may already add these tasty, barbecue-friendly ingredients to your ground beef before cooking, but they also reduce HCAs.
Blueberries It may seem odd and counterintuitive to add fruit to meat, but mixing a cup of ground blueberries or cherries into a pound of ground beef before grilling can reduce HCAs by up to 90 percent. And according to this recipe, the taste is undetectable.
What do you mix into your ground beef before grilling?