Reebok Dance UR Lead Mids Review
Shoe Review: Reebok Dance UR Lead Mids
Whether you're out on the streets or shaking it up in dance class, the new Reebok Dance UR Lead Mid shoes ($85) make a bold statement with their midcut reach and vibrant hues.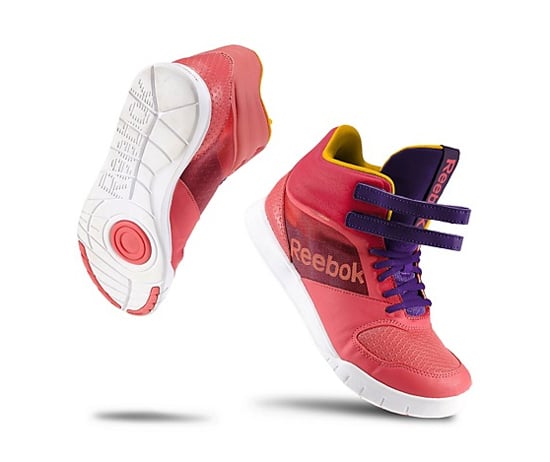 This retro design from Reebok satisfies the demand for a dance-specific sneaker: breathable, cushioned, and lightweight, they feel like a supportive second skin. After wearing the Reebok Dance UR Lead Mids in both Zumba and POUND classes, I found them to be perfect for a high-impact aerobic dance workout. Jumping, shaking, and stomping in both these classes, I wasn't held back once by the shoes — a problem I regularly have when wearing traditional running shoes during a dance workout.
As opposed to running shoes which are made for the front-to-back motion of running and not so great for the side-to-side dance movements, the thin sole and tread pattern on the bottom are designed to move in all directions, freeing up the feet, and helping you feel more agile. The shoes allowed for plenty of easy pivoting, and I was able to slide across the floor with the right amount of traction and control. Running shoes can be tough on ankles in dance classes, but the high-top-inspired ankle reach, extra cushioning, and two Velcro straps across the top of the shoe also helped to stabilize the ankle without limiting mobility. As a big fan of going barefoot whenever possible, I found these kicks to be surprisingly comfortable and flexible.
From the first time I laced up, I was impressed with their feel and design and received a ton of questions, compliments, and double takes from fellow classmates. While the shoes are a little bulky to transport in a gym bag, the experience in class is well worth the hassle. If you're a Zumba enthusiast who has been looking for the right shoes, investing in this wild pair from Reebok will pay off. The Reebok Dance UR Lead Mids are available in four color schemes that you can check out here.