Reebok Settles Suit Over Fraudulent Claims of Toning Shoes
Reebok to Refund $25 Million Over False Claims of Toning Shoes
It's not all that surprising that Reebok settled a law suit over claims used to pimp its toning shoes. The lawsuit, brought by the Federal Trade Commission, comes on the heels of a report released last year by the American Council of Exercise, which found toning shoes to be no better than sneakers.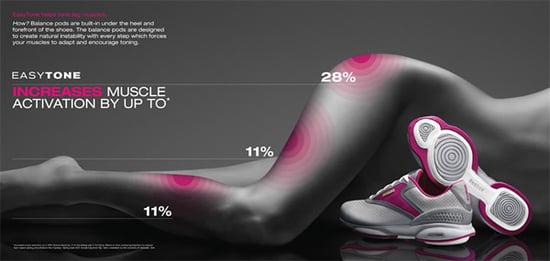 Makers of the EasyTone and RunTone toning shoes, Reebok has agreed to pay $25 million in refunds to consumers for false claims that its toning shoes worked muscles more than regular athletic shoes — ads included, among other stats, that the shoes work the glutes 28 percent more than walking shoes. The FTC investigation found that Reebok had no evidence to back up its data. Announcing the settlement, David Vladeck, director of the agency's Bureau of Consumer Protection, said, "Consumers expected to get a workout, not to get worked over." The company stands by its shoes and the balance ball technology used in the shoe to supposedly increases the work in your legs. If you purchased a pair of People Reebok toning shoes after Dec. 5, 2008, you apply for a refund through the FTC.
I tested more than a few brands of toning shoes over the years and didn't really feel a difference toning wise. Wearing MBTs, however, really helped keep my troublesome back pain-free while teaching Pilates eight hours a day. What about you? Do you have a pair of toning shoes in your closet or on your feet?