Reggae Marathon Race Review
Your Next Destination Race: Why the Reggae Marathon Is Perfect For Beginners
I've been bitten by the race bug, so when I was invited to participate in the Reggae Marathon, Half-Marathon, and 10K (as a guest of the Jamaican Tourism Board) I jumped at the chance. Before I touched down in Negril, Jamaica, however, I wasn't entirely convinced I'd enjoy running a half marathon in Jamaica's well-known hot weather. Here's why I was wrong.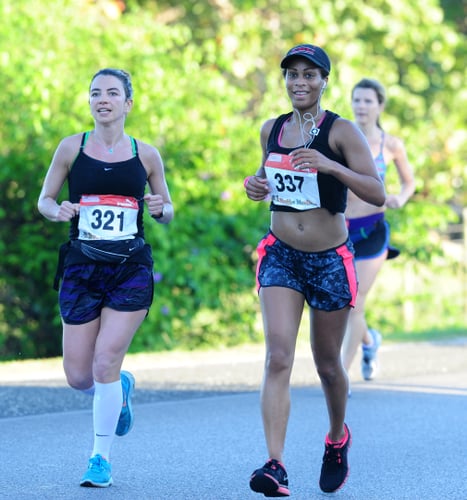 Source: Errol Anderson for Reggae Marathon
The simple course: I welcomed the sight of pancake-flat roads gently following alongside Negril's famous "seven-mile" white sandy beach, and if you are a race newbie, you probably will too. The course is not only flat, it's also simple; runners start out in a pack and run 3.1 miles before looping around a large traffic roundabout; from there, 10K runners run back to the start area to finish, while half-marathoners and marathoners continue on to complete the 13.1-mile course loop. Full marathoners run the entire race course twice. The simple plan makes it easy to tune out and run without worrying if you'll miss your turnoff.
The course starts and finishes just steps from the beach, and the views of the sand, sea, and lush greenery are gorgeous, and keep you going when you're fading. Also motivating are the live reggae bands that set up every few miles, as are the makeshift sound systems and cheers from the locals. As soon as you hit the finish village you can rest, rehydrate, and line up for a free massage — or do what I did, which is walk a few steps and soak my weary feet in the warm Caribbean Sea.
Timing is everything: When I first decided to run the half marathon, my first thoughts turned to the heat — and whether I'd collapse from exhaustion on the course. Temperatures hover in the mid-80s in Negril during December, when the race is held. Living in San Francisco, I've become accustomed to temperate weather; when I ran the Nike Women's Half Marathon in October, for example, I was thankful that the city's characteristic fog blanketed most of the course. But, luckily, the Reggae Marathon race organizers keep time spent in the sun a minimal. The race begins promptly at 5:15 a.m., giving participants over an hour head start before sunrise. This is a great strategy, and as soon as you're running the course you definitely don't begrudge the fact that you had to wake up at 3:30 a.m. to make the gun.
Keep reading for more about what I liked (and didn't like) about the Reggae Marathon.
Hydration plan: Even with the early-morning start, dehydration is an important concern, and the organizers take much pain to make sure you stay well hydrated. Volunteers hand out water and sports drink pouches every mile — an important consideration that becomes even more so in those latter miles when the sun is overhead and you're drenched in sweat. Race organizers pride themselves on using plastic pouches, a uniquely Jamaican means of hydration; they hold more liquid than normal race cups, and don't splash around while you run. While true, I found that having to bite or tear open the pouch while running was harder than it seems, but I did appreciate being able to hold onto my water longer without losing it all while I ran. Even better than the water pouches on the course, however, were the rehydrating options at the finish line: a freshly chopped open coconut full of coconut water, along with free Red Stripe beer.
How much longer? If you normally register for large, tightly coordinated marathons you will notice that this marathon is much smaller; at just over 1,400 participants, 2012's race was the largest ever in the race's 12-year history. And while the race was well organized, a few small details were overlooked; one such detail was the lack of mile markers. At some point, it was a little difficult to tell how many miles were left; I heard a few people around me ask each other which mile they were on, and when I asked a couple of volunteers at a water station as I passed they also weren't sure. If you go, wear a fitness tracker or heart rate monitor to keep tabs of your own time and mileage.
Another minor annoyance is traffic logistics. The race shuts down a main road in small Negril for eight hours; that can make it hard for motorists to navigate the town, so at one point during the race the organizers opened the road for a few buses to go through on one lane, while we ran on another. While they made sure to keep things safe, I wasn't quite used to breathing in gas fumes while running a race!
Beware of the party: One highlight of the marathon is the fact that the price of registration includes entry into an all-you-can-eat pasta extravaganza the night before. There, you can fill up on your share of pasta dishes and Jamaican delicacies from local restaurants. Just beware; like most things in Jamaica, the pasta party is also a reason to celebrate — there's free beer, a bar, and live music to tempt you to stay out instead of turn in. If you go, make sure you stick to your normal pre-race prep: water (not dehydrating alcohol!), a filling carbohydrate meal, and lots of sleep. Since the race is on a Saturday and not Sunday like many races, don't worry; you'll still have time to enjoy Jamaica's party atmosphere.

Source: Errol Anderson for Reggae Marathon
Post-race stats: My newfound love for the Reggae Marathon didn't stop after I finished the race. I was pleasantly surprised to find an email with my chip time mere hours after I finished, and again surprised the next day to find another email with a free video of my last few yards to the finish line, but also a link to detailed results that ranked my time based on age, gender, and overall stats, as well as my split times and average pace. While most races provide you with similar info, it was nice to get everything so quickly and with so much detail.
All in all, I'd highly recommend Reggae Marathon as the perfect destination race for anyone, especially those who've never done a race before. The small size ensures you'll get the personalized attention you need, and the fun-but-organized atmosphere will help wipe away any race jitters! Tell me, have you traveled for a race?