Registered Dietitians on Brunch
From Yogurt and Fruit to Bloody Marys and Fries, This Is How Registered Dietitians Do Brunch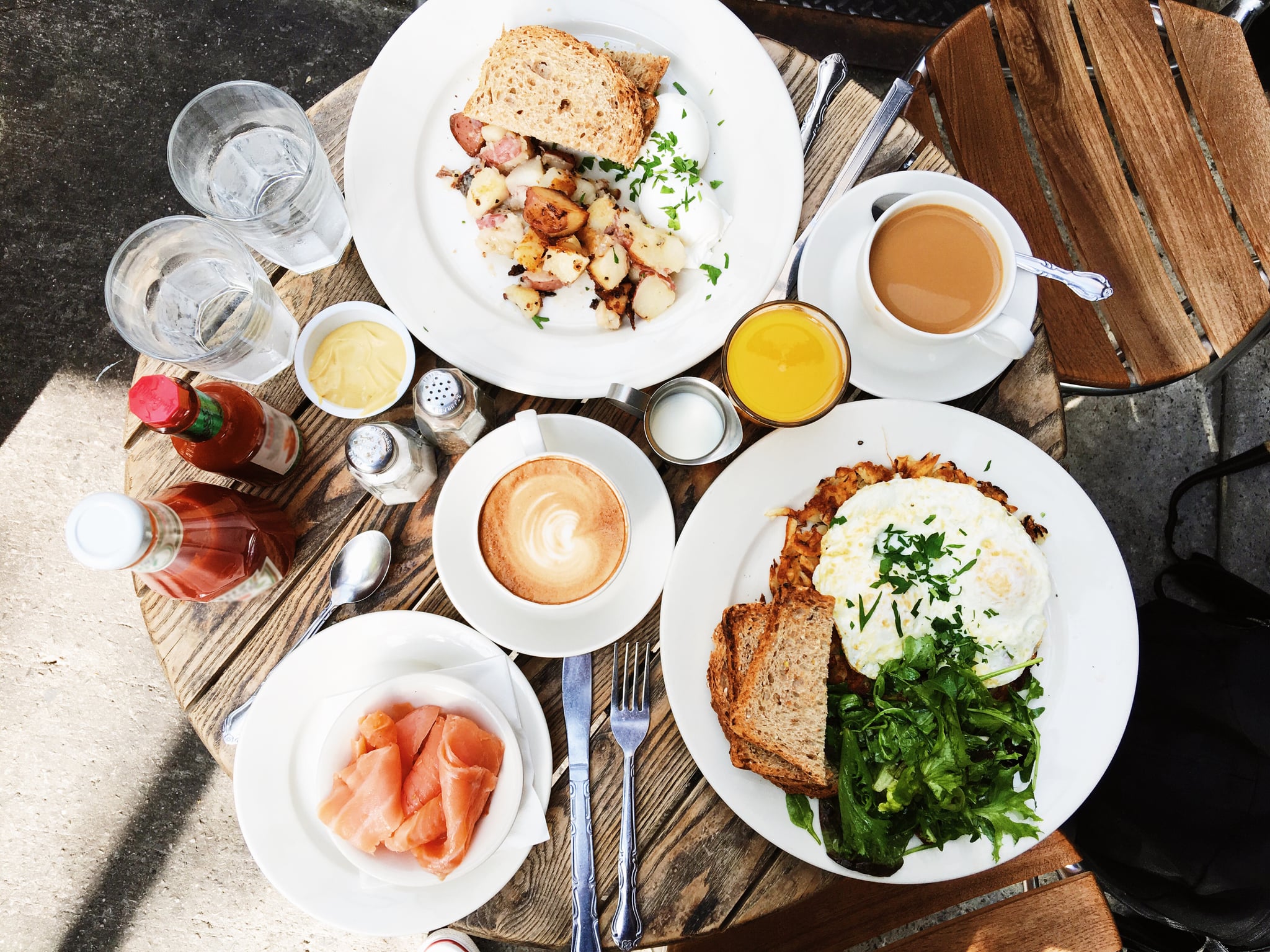 Brunch plans are easy to commit to: you can lounge around before your reservations or you can start your day with a morning workout before heading out to meet friends at your go-to spot. Either way, you'll be rewarded with an endless menu of both breakfast and lunch items; brunch is surely the stuff of the food gods.
Generally speaking, a lot of brunch foods are heavy on the carbs (not the good kind) and sugar. Pancakes, butter, booze: they're all there. (That's not to say that you can't make healthy pancakes!) Now, there's nothing wrong with eating a plate of french toast or a hash brown side — everything in moderation, remember? But, it can be hard to pick an order if you're counting your macros, focused on getting enough nutrients, or just don't want to splurge too much. So, we asked registered dietitians what they eat at brunch. The results had a lot to do with protein, whole grains, and greens. Here's what they had to say.
Eggs, Eggs, Eggs
Lisa Moskovitz, RD, CEO of New York Nutrition Group, told POPSUGAR, "Starting the day, whether it's at 7 a.m. or 11 a.m., with some lean protein and lots of fiber is the best way to keep energy levels high and appetite in check until several hours later. If it's a rare occasion, I tend to indulge a bit more with a whole-egg, hearty frittata filled with cheese and a side of their best type of bread. If I already had a larger meal that week, I'll balance it out with a lighter option such as an egg white omelet overloaded with high-fiber veggies and topped with avocado. I tell them to hold the cheese and get some whole grain toast on the side to still keep me plenty satiated."
"I actually rarely eat brunch out," Rochelle Sirota, MS, RD, a nutritionist in private practice, said. "On a weekend morning I just consume my usual home-prepared favorite green smoothie, perhaps at a slightly later morning hour. If I did dine out for brunch, I would go to an eatery that offers organic options, and it would probably be quite simple: eggs with mushrooms, potato, avocado, and greens."
Pass the Veggies
Brittany L. Jones, MS, RD, of Blush Nutrition, said that when she goes out to brunch, "I always find myself gravitating towards their veggie hash or skillet. I love finding ways to incorporate vegetables into every meal, and a sweet potato hash with bell peppers and onions is right up my alley! I typically top it with a sunny-side up egg to add protein, and some cheese or avocado to add some fat."
"I'm all about a really hearty, veggie-filled brunch," Desiree Nielsen, RD, TV host and author of the upcoming plant-based cookbook Eat More Plants, agreed. "I love a tofu scramble packed with greens, mushrooms, and onion, which I'll spike with hot sauce, and thick-cut slices of good sourdough and jam. Then I don't have to choose between sweet and savory!"
A Side of (YES!) Fries
"My favorite brunch order is definitely a veggie omelet with french fries," Chelsey Amer, MS, RDN, owner of Chelsey Amer Nutrition, told us. "No, it's not always the most nutritious brunch, but there's a mix of protein, some veggies, and a fun food, which I think is important to include when eating a well-rounded and balanced diet." Amen to that.
Parfaits
Amanda Blechman, RD, senior manager at Danone North America, said, "When I go out to brunch, I like trying creative yogurt parfaits. I eat a lot of yogurt at home, and I tend to have my go-to toppings on rotation, so I love finding chef-inspired combos with unique fruit or house-made granolas to try. One of my favorite brunch spots in NYC, Epistrophy, has a delicious combo that is simple but goes beyond what I would do myself at home. It has fresh berries, Sardinian nougat, granola, chia seeds, and mint. Yogurt is an amazing and nutrient-dense vehicle for other healthy ingredients like fresh fruit, whole grains, nuts, and seeds."
All About the Beans
"I love a breakfast bean burrito or whole grain toast topped with a bean spread and sautéed greens," Jenny Furman, RD, program manager at City Harvest said. "I am a huge bean enthusiast because beans are a plant protein powerhouse with tons of fiber."
Avocado Toast (Duh!)
Kylie Gearhart MS, RDN, assistant clinical nutrition manager at NYU Langone Orthopedic Hospital and an associate dietitian at New York Nutrition Group, told us, "My all time favorite brunch order is avocado toast with an over-easy egg on top. It is the perfect ratio of carbs, protein, and fat. I skip the fried potatoes and sub a side of fruit instead and add tomato slices, or a Bloody Mary if it's boozy brunch, for a completely balanced meal." We're glad someone mentioned this brunch staple!