Remind Yourself to Drink Water at Work
Fit Tip: Set an Alarm to Remind You to Drink Water at Work
Temperatures in San Francisco are climbing to all-time highs this week, serving as a good reminder of the importance of drinking your recommended allowance of water every day. While staying hydrated is important every day, it's particularly important when the weather is hot, especially if you're planning to exercise.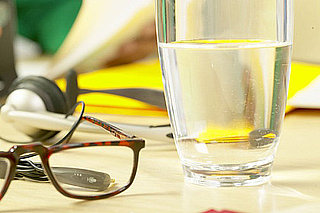 I'm certainly guilty of not getting enough water; whether it's just general laziness or days that are packed so full I don't have a moment to spare, some days I'll leave the office having only drank a glass of two of water — big mistake. Since dehydration can lead to dizziness, a dry mouth, and all-around irritability, I'm only hurting myself by not getting enough to drink. So, over the past few days I've been trying a new system to get my eight glasses during they day: I set calendar reminders to alert me each hour, reminding me to drink a glass of water.
Find out how it works (and how I'm doing) after the break.
At first, the reminders were a bit obtrusive, but they worked immediately. During my first few days of drinking effort, I fell behind and found myself having to catch up, but after a few days, I barely needed the reminders. I still use them, but instead of simply saying "water," they say funny things like, "dehydration is for losers" and "April showers bring May flowers." I'm hoping to phase out these hourly reminders soon, but if you're looking to drink more water during the workday, this tip may be for you!
To quickly find out how much water you should be drinking, check out this simple formula. And if the alarm method isn't for you, check out another tried-and-true system: rewarding yourself with chocolate!