Rent Camping, Biking, and Tennis Equipment From Stores Like REI and Lower Gear
Don't Let Camping Break the Bank — Rent Gear Instead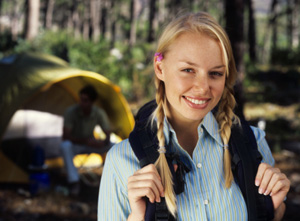 I love renting bikes when I am on vacation. It's a great way to incorporate exercise when traveling and an easy way to test out the waters if you're thinking about buying one. But bikes aren't the only fitness-related things you can rent, which is something I learned when visiting my favorite outdoor gear store, Sports Basement.
While I was waiting in line to make my purchase I was surprised to see someone renting all the essentials for a weekend of camping: tent, stove, sleeping bag, and even trekking poles. When I spoke to the salesperson, he told me that more and more local gear stores are renting equipment because it encourages people to hit the outdoors without having to make a major investment up front. I was also happy to find out that national chains like REI, Sports Authority, Eastern Mountain Sports, and Sport Chalet also rent gear. But if you're nowhere near a sports store, don't fret, you can also rent gear online or by phone from LowerGear, who will ship the equipment to you. Besides camping equipment, most stores rent gear for snow sports, tennis, water sports, and cycling. In general, the rental prices are up to 90 percent off what it would cost to buy the same stuff.
I'm pretty stoked about the idea of renting gear and am already making plans to rent a two-person kayak with a friend. It's a great way to get in shape without having to commit yourself to a huge investment, especially for sports that have a limited season.