Report Shows That Americans Are at High Risk For Developing Hypertension, High Blood Pressure
High Blood Pressure, a Hidden Killer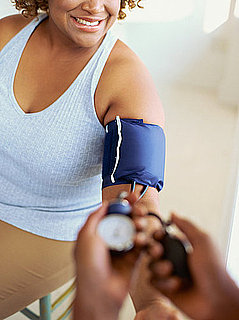 With American Heart Month coming to an end, I'd like to urge you to get your blood pressure checked. According to a new report from the Institute of Medicine, hypertension — aka high blood pressure — is becoming a neglected disease. When the doctor slips the Velcro cuff on and off of our arm, it's easy to zone out, but consider this: one in three American adults has hypertension and one in six will die from hypertension-related complications like a stroke or heart disease.
Although the exact cause of high blood pressure is unknown, there are many contributing factors to the condition. Here are a few things you can do to avoid becoming part of the deadly statistic.
Lay off the salt. Ninety percent of American adults consume more than the RDA of sodium of one teaspoon per day. Not entirely shocking when you consider the salt content in most processed or restaurant-made foods is through the roof. To keep your salt intake in check, make an effort to check the sodium content of the foods you buy at the grocery store, ask that your food be prepared with less salt when dining out, and go homemade whenever you can.
Relax. Stress is a contributing factor to high blood pressure. Make sure you have a way to decompress from all of life's little knots that can get tied up in you. Exercise, massage, sex, getting enough sleep, and meditation are great starts to a calmer you.

To find out four other ways you can prevent high blood pressure,

.

Control your vices.  If you're smoking, quit. If you're a drinker, keep it to one drink a day. Smoking and hitting the bottle too often are associated with a wave of health problems — hypertension is just one of them.
Get moving. Research has found that individuals who are overweight are prone to hypertension. But just because you're thin, doesn't mean you're off the hook — sedentary individuals are also are prime candidates for the condition. Whatever your weight, make sure you're physically active.
Eat the right thing. Certain foods like whole grains, potassium-rich foods, and fat-free milk products have all been linked to reducing the risk of hypertension.
Get checked out. As I mentioned in the beginning, it's important to regularly get your blood pressure checked. If you don't have insurance or can't afford a doctor's visit, many supermarkets, fire stations, and pharmacies have blood pressure monitors that you can use for a nominal fee. Normal blood pressure is 120/80 (systolic/diastolic) or less. When both numbers start to go way up, you've got high blood pressure.