Review of 10 Minute Solution Quick Sculpt Pilates DVD
DVD Review: 10 Minute Solution Quick Sculpt Pilates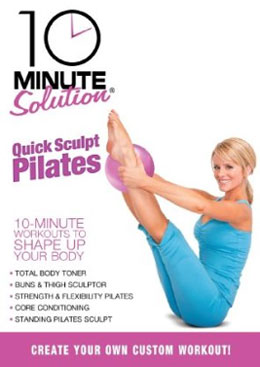 Looking for an easy, at-home way to get in bikini shape? Look no further than the 10 Minute Solution Quick Sculpt Pilates With Toning Ball DVD.
This five-part, 50-minute workout is another effective 10 Minute Solution DVD that comes with a free gift — in this case, a pretty pink toning ball. Though I identify more with host Jessica Smith of the Belly, Butt, and Thigh Blasters DVD with sculpting loop, I prefer this workout and its accompanying equipment more. To find out why,
.
While the resistance band of Belly, Butt, and Thigh Blasters felt awkward to me, the toning ball was easy to incorporate into the routine, and I immediately felt the effect of the moves and the way the ball enhanced them.
The video takes you through familiar Pilates mat work, but the addition of the ball makes this more of an intermediate or advanced workout. Throughout the five 10-minute segments — standing sculpt, total body workout, buns and thighs, core conditioning, and strength and flexibility — the ball sometimes stands in for a Pilates reformer machine, while at other times, it adds a balance challenge. In many of the leg-strengthening moves, you squeeze the ball to tone your inner thighs.
On first attempt, Quick Sculpt Pilates isn't easy to follow. Instructor Andrea Leigh Rogers speaks very, very fast, and her rapid-fire delivery lacks detail, so I had to listen closely and watch the screen. As with most DVDs, once you learn the moves, her directions become easier to follow — though the workout still feels fast! However, it will be well worth the extra effort when you realize how sore your butt, abs, and back muscles are the day after.
Have a fitness DVD you love? Review it in the Get Fit For 2010 Group in the FitSugar Community, and we might feature your review on FitSugar.