A Review of 23andMe's DNA Testing Kit
A Review of 23andMe's DNA Testing Kit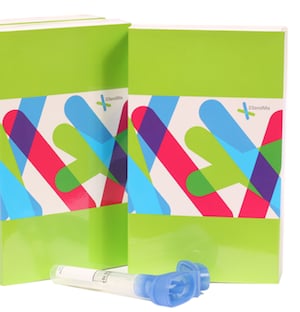 I finally bit the bullet, saved up my pennies, and purchased an item that's been on my wish list for the past year — a DNA Testing Kit from 23andMe.
This innovative contraption made it onto our February Must Haves list, but let me refresh your memory on the details of the test kit.
For $199 (down from their original price tag of $499), 23andMe mails you a kit, which includes detailed step-by-step instructions and the necessary materials. First, you create an online profile at the site and register your kit; then, you just need to spit in the provided tube, and mail it off to a fancy lab for analysis. From just a tiny saliva sample, using the latest DNA technology, scientists extract DNA from cheek cells in your saliva. From there, the DNA is copied multiple times so that it can be used in the genotyping step. Here's a more in-depth, scientific explanation on how the entire DNA analysis process works.
Keep an eye on Amazon where it often goes on sale during Prime Day, Black Friday, etc: 23andMe DNA Test ($99)
Here's what happens when you get your DNA results.
Within six to eight weeks after mailing your kit, you will receive an email from 23andMe saying that your genetic profile is ready. When I first opened up my profile I was a little overwhelmed — considering the fact that you can discover your risk factor for up to 95 diseases, it's an understatement to say that there's a lot to explore. Fortunately, everything is laid out quite simply and it's easy to navigate your way around the site.
The section you'll probably want to click on first is "Disease Risk" under "My Health." Here you'll find your percentage scores for diseases where you have an elevated risk, decreased risk, and typical risk. Conditions within these lists include: All types of cancers, Hodgkin's Lymphoma, Parkinson's Disease, Asthma, Crohn's Disease, Cluster Headaches, Melanoma, and Rheumatoid Arthritis, just to name a few. You can also have a peek at your ancestral origins — looks like I'm 100 percent European, although my fiancé loved the fact that his chromosomes show ancestral connections to every region in the world — international man of mystery! One of my favorite sections is "Traits" under "My Health." Here's where you can get silly and find out fun things like what your muscle performance is (I got "likely a sprinter" — woot!), your pain sensitivity, your odor detection, and ear wax type — who even knew wet earwax was a genetic trait? Thanks, mom and dad!
Overall, I think this kit is definitely worth the investment. It was fascinating to learn about my genetic makeup and also be armed with knowledge about what I may experience later in life. I'm quite proactive when it comes to my health, so knowing what I can start doing now to possibly prevent a future condition later is a major plus — yay modern technology! Just because our DNA says we may be more prone to a possible disease doesn't mean we have to throw our arms in the air and give up on a healthy lifestyle. I haven't drastically changed my health habits after receiving my results, but it has provoked interesting discussions with my family members and doctors. Confession: I'm kind of in love with the fact that I now know my body on a molecular level. Thank you, science.