Review of Adidas miCoach and Pacer
Gear Review: miCoach by Adidas
After spending much of my day telling other people what to do — in a nice way of course — it's oddly comforting to have my miCoach Pacer ($139) tell me to speed up or slow down when I am out for a run. The miCoach is Adidas's answer to the Nike+ running system, but it offers real time audio coaching. This means a voice, you select the accent (I have chosen British male and like to think James Bond is coaching me), interrupts your music to let you know if you're running too fast, too slow, or just right for the selected workout. Some runners might find this annoying, but it does help me stay on track. No pun intended.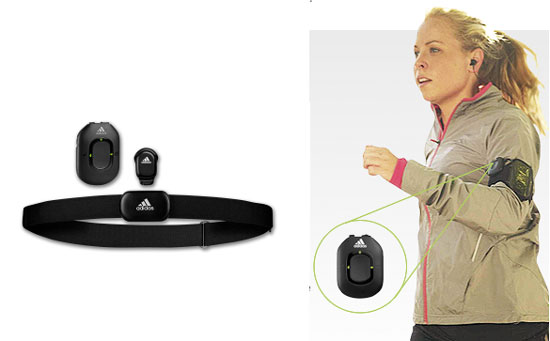 I have learned a couple things from my miCoach, which I've been using since Adidas unveiled the product at the Consumer Electronics Show, where the company gave me one to test. First, I am a visual person. I had become quite accustomed to checking my heart rate monitor watch for my stats: heart rate, time, and if I am using my foot pod, distance and pace. With the miCoach Pacer all this data comes to you in audio form. It is a bit of a tricky transition, but once made, all will go smoothly. You can press the center button on the Pacer to hear your real time stats. You pre-select what you would like to hear using the Adidas website, where you manage your information and select your workout schedule.
For more on the miCoach keep on reading!
The second thing I learned from my personal Pacer is that I start out too fast. Hearing James Bond the miCoach telling me to slow down has helped me conserve energy on longer runs. At first, I found this a bit frustrating, but I learned you can adjust the pre-set heart rate zone on the website to better match your target heart rate zones. Post run, you sync the Pacer with your computer and the information from your run appears on the website in cool charts with graphs so you can follow your pace with a graph of your heart rate and even check your stride rate. All the charts and graphs can definitely bring out the type A runner lurking deep in us all. The miCoach doesn't just coach you on individual runs. When setting up your profile you select a goal, from weight loss to running a marathon, and the gadget creates a schedule for you and has you running four to six times a week — you select the number of days you would like to train. I am following the four times a week 1/2 marathon training and so far so good. I feel myself getting stronger and feel accountable to my schedule.
The miCoach system is cool, but can be a little technically challenging. The instruction booklet that comes with the miCoach is a bit sparse and the website adds little information. Why not harness the power of the web and have problem solving techniques on the site or a video that talks you through how the Pacer works. I had a few technical glitches on setting up, but restarting my computer seemed to fix the problem. I have also found that I need to restart my computer after each sync or my laptop doesn't recognize that the Pacer is plugged in.
I think the miCoach is cool because the foot pod, which is more than a pedometer, doesn't need to be calibrated, and since it doesn't rely on GPS information you can use it with a treadmill. The foot pod allows you to use the miCoach with any brand of running shoe and is super small and lightweight. Unfortunately, I think the calories burned figure on the miCoach is a bit exaggerated, because it consistently gave me a higher amount of calories burned per workout than a treadmill readout or other heart rate monitors I have used. The miCoach uses an equation based on gender, height, weight and heart rate to calculate the figure, so I am not sure why it is higher.
One thing missing from the miCoach platform is the social community where you can compete with friends and other users, and post your weekly or monthly mileage for bragging rights. This is coming soon though and should be available in early Spring. Some treadmills, ones equipped with ANT+, will display the heart rate information from the miCoach heart sensor if you need a visual fix.
There are many options you can use with the miCoach. Run with music; it's compatible with most MP3 players. Or you can run without and use the single earphone that comes with the gadget. You can create your own schedule and design your own runs, or you can simply follow the workouts that Adidas programs for you (there are interval workouts, but no hill workouts). All these options make it fun to play with and mighty versatile. You can spend many runs exploring all the options.