Review of Alter Eco Organic Dark Chocolate Quinoa Bar
Food Review: Alter Eco Organic Dark Chocolate Quinoa Bar
Quinoa in chocolate? Sounds a little bizarre, but if Nestlé Crunch was one of your favorties as a child, then you'll adore this grown-up and healthier take made by Alter Eco — Organic Dark Chocolate Nutty Toasted Quinoa Bar ($5). We're talking smooth, deep, luscious dark chocolate with delightful quinoa-rice crisps. It's vegan, GMO-free, soy-free, gluten-free, and certified organic. Not only that, but since it's made by Alter Eco, you know it's also fair-trade certified, which means you can feel good about "supporting farming families through fair prices, direct trade, community development, and environmental stewardship."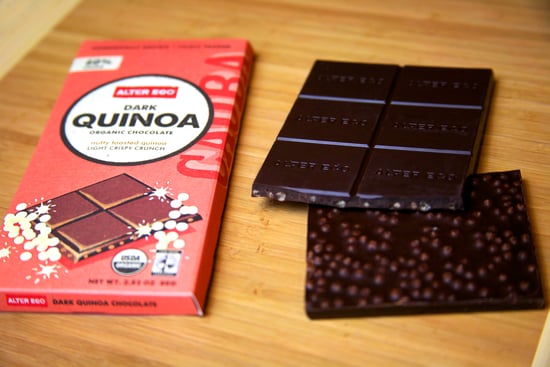 Made with 60 percent cocoa, this dark chocolate bar has an amazingly rich and robust dark chocolate flavor. I was really blown away by how sweet, creamy, and mouthwatering it was. I also loved the texture of the crispy quinoa. Honestly, this chocolate is up there in flavor with expensive chocolates I've tried, and due to its deep, dark flavor, after a few squares, your chocolate cravings will be satisfied. I'll definitely be buying this again, as it's my new go-to chocolaty treat.
We love it so much, we included it in our April POPSUGAR Must Have subscription box — find out more and join in the fun!
| Serving Size | 5 squares (half the bar) | 2 squares (1/5 of the bar) |
| --- | --- | --- |
| Calories | 220 | 88 |
| Total Fat | 15 g | 6 g |
| Saturated Fat | 9 g | 3.6 g |
| Cholesterol | 0 mg | 0 mg |
| Sodium | 2 mg | 0.8 mg |
| Carbs | 22 g | 8.8 g |
| Fiber | 3 g | 1.2 g |
| Sugars | 20 g | 8 g |
| Protein | 2 g | 0.8 g |
Ingredients: Cocoa beans, raw cane sugar, cocoa butter, quinoa-rice crisps, vanilla beans