Review of Back to Nature Classic Granola
Food Review: Back to Nature Classic Granola
During the weekdays my breakfast routine is pretty standard — yogurt, granola, and fresh fruit. And while granola has achieved the status of being a good-for-you food, most of the store-bought stuff is loaded with hydrogenated oils. That's why I was stoked to find Back to Nature Classic Granola ($5).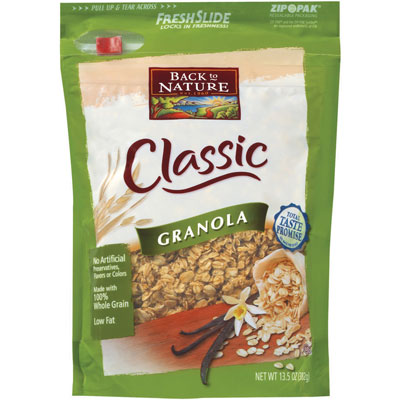 I love how simple this granola is — rolled oats that are lightly sweetened with fruit juice — because it gives a basic foundation that I can jazz up. But the biggest plus is that it's made without using any oils. One serving only contains 25 calories of fat, not bad! It's a great way to get fiber into your diet, and it also contains a good amount of protein, iron, and magnesium.
To hear how it tastes read more.
As far as the taste goes, it can't be beat. It's crunchy and toasty, with just the right amount of sweetness, and the nutty, chewy flavor of the oats really come through. Overall the granola has sort of an old-school feel to it, like a simple, classic granola that was made at home by someone's grandmother. Because it's too not clumpy, it's easy to sprinkle over food and also absorbs my yogurt faster. After I get through this bag I'm moving on to the line's other flavors like, Organic Cherry Vanilla and Wild Blueberry Walnut.
| | |
| --- | --- |
| Serving Size | 1/2 cup |
| Calories | 200 |
| Total Fat | 3 g |
| Saturated Fat | 0.5 g |
| Cholesterol | 0 mg |
| Sodium | 0 g |
| Potassium | 220 mg |
| Carbs | 39 g |
| Fiber | 4 g |
| Sugars | 12 g |
| Protein | 6 g |

Ingredients: Whole Grain Rolled Oats, Evaporated Cane Juice, Pineapple Juice Concentrate, Pear Juice Concentrate, Peach Juice Concentrate, Vitamin E, Natural Flavor.
What's your go-to granola?