Review of Blast the Belly Fat DVD by Jeanette Jenkins
DVD Review: Jeanette Jenkins Blast the Belly Fat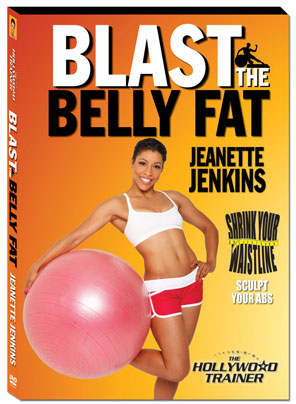 Waking up before the sun rises to pop in a fitness DVD takes a certain amount of willpower. But when you're working out with a Jeanette Jenkins video you'll feel buoyed by her energy. This morning I got my sweat on with her Blast the Belly Fat ($20) DVD. Jeanette's super-positive energy is infectious, and her cuing is great. This gal doesn't employ the typical LA tough-guy trainer posturing. Jeanette leads you through the work with a genuine smile.
The hour-long-plus DVD provides a very athletic workout; three circuits, all around 15 minutes each, follow a solid eight-minute warmup. The workout ends with 10 minutes of Pilates-based ab exercises and a solid stretching sequence. Since many of the exercises feel like agility drills from basketball or soccer practice, it helps to channel your inner jock. There's definitely some high-impact cardio moves in each of the circuits, with full-body moves and ab-specific exercises thrown into the mix. Your heart stays pumping while you lunge, squat, and jump.
This workout require two sets of hand weights between three and 10 pounds and an exercise ball. Jeanette uses a wide variety of plank moves on the ball to challenge your middle while taxing your arms and legs too. I like those multitasking moves, but they definitely maxed out the space in my tiny living room. Jeanette also rarely offers modifications for beginners in this workout, making it feel like an intermediate workout. I like the challenge of the workout and will definitely add it to my DVD rotation. I like the mix of moves, and working my core is always a plus. You can pick up a copy of the workout on Jeanette's website Hollywoodtrainer.com.