Review of Bob Harper's Inside Out Method Fitness DVDs
Bob Harper's Inside Out DVD Series
When asked which trainer from The Biggest Loser you would want to work out with, Bob Harper edged out Jillian Micheals; he's the nice one, right? With his new four-disc DVD series Inside Out Method, it looks like he is trying to change his rep. From yoga to intense cardio, Bob is ready to make you sweat, grimace, and shake — the more you complain, the harder he will make you work. Yes, it's as if he can see you slack off through the TV, so he ups the ante to keep you and your core engaged.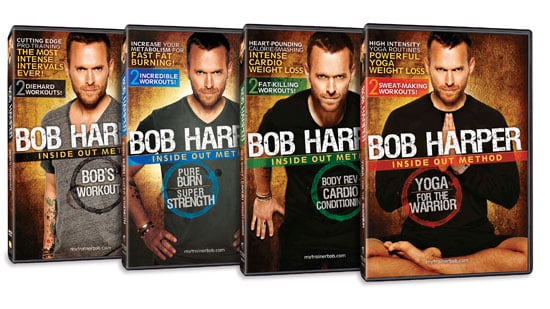 The DVDs are not about eye candy and loud pumping music; the aesthetic is simple (almost somber) with occasional arty camera work to spice things up. I appreciate that in one yoga pose, Bob acknowledges that you can't see the TV screen, so he tells you to focus on his voice as he tells you what to do next. However, he does seem to take maniacal pleasure in pushing you and his studio clients to the limit. The workouts are intense and great for both men and women — this is not your Jane Fonda fitness routine. My hubby did all four workouts too, even warning me that Bob was crazy when he previewed a DVD before I could get to it first.
For a description of each DVD and to take a gander at the series trailer, continue reading.
The DVDs retails for $20 each, but you can buy all four titles for $35.95.
I really like this series, although some moves are repeated in more than one workout. These DVDs are great if you have a hard time pushing yourself when working out on your own. Bob seems to ask for so much, but changing your body is hard work. There were times I would have flipped off Bob and his work ethic speeches, but I was too tired to raise my arm. Check out the trailer for the fitness series below.