Review of BodyMedia Fit System
Weight Loss Gadget: BodyMedia Fit
In the age of information, dieting has gone digital. There are more than iPhone apps to keep you on target; there are now diet tracking systems. BodyMedia Fit is a weight loss gadget that tracks 9000 pieces of information about your day, from the calories you've burned to quality of your sleep, to help you meet your weight loss goal. The armband monitors your activities and you track your food intake online to see if you're in a weight loss calorie deficit and if you're actually working out as hard as you think.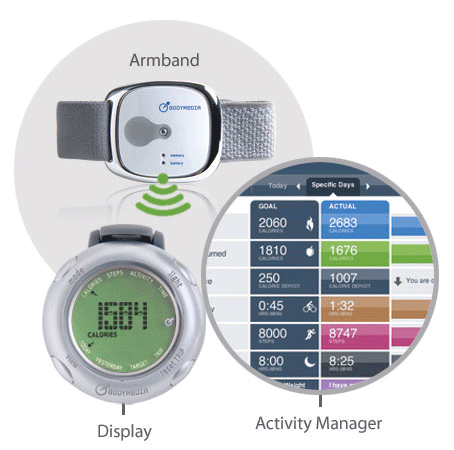 My husband, eager to drop a few pounds before his next birthday, was stoked to try out the test model BodyMedia sent. Here are his thoughts on the product.
In the two weeks that I've been using the BodyMedia Fit, I've lost three pounds and learned some important things I wish I knew years ago.
Knowledge is power: I finally know how many calories I burn in a day, not just in my workouts. And wow, I eat a lot of calories. Knowing my caloric intake isn't a bad thing at all, but this is the first time I have ever counted calories and they sure do add up. I can also track moderate activities, walking/running with my kids as they bike, and vigorous activities — my intense hill climbing cycling workout. Even during "hard" workouts, it turns out I still spend much of my time in the "Moderate Intensity" zone. I have learned that I need to kick it up a notch! Sleep wise, I have learned that I spend too much time lying in bed thinking about work rather than actually sleeping — it accurately tracks how restful your snoozes are and I have yet to sleep eight hours.
Learn more when you keep reading.
Dieting by numbers: With this program, I can target a safe and realistic daily caloric deficit. It turns out that when dieting in the past, I wasn't eating enough and my body was going into fat storing mode — so happy to be avoiding this problem. There's great nutritional information on the foods in the BodyMedia database. I dig that it breaks down daily totals of each nutrient and this feature really helps monitor sugar consumption. However, the food database is limited and there's not much in the way of ethnic foods or grocery store brands. Be prepared to enter information for your most eaten foods into the personal "My Foods" database; but once this is done you can easily select from a list of frequently eaten foods which makes calorie tracking easy and quick.
The look: Even though the armband is pretty low key, I still feel like I'm wearing a Lindsay Lohan style alcohol monitor or that I'm under house arrest. All this being said, in the two weeks I have been wearing the BodyMedia band only one person noticed and asked me about it.
Techy bits: The web site is easy to navigate and understand, plus syncing the data from the armband with a PC or Mac is easy. But no official support for Safari 5.0 — come on now! That said, it seemed to work fine when running Safari on the Mac. There is no iPhone/iPad app and this would be extremely helpful for effectively entering calories consumed when out in the world. If not an app, a mobile web portal would do the trick. I think they should add a water consumption tracking to the foods page; hydration so important for weight loss.
I love this product and feel like this company is really onto something. It's been a really helpful tool for me.
As you can tell, my husband is really into his BodyMedia Fit. The armband is priced at $190 and it is $6.95 per month for a twelve-month subscription or $12.95 per single month. There is also a display unit for $100, so you can track your stats in real time.