Review of Book Run Like a Mother
Book Review: Run Like a Mother
Watching sports on TV inspires me to run. Passing runners on the street when I am on carpool duty makes me want to run. So it should come as no surprise that the printed word on running also makes me want to lace up my sneaks and pound the pavement. After a late night reading session of the new book, Run Like a Mother ($15), I set my alarm to fit in a previously unscheduled early morning run the next day. I thought the authors would be proud. This book is entertaining and fun to read, full of helpful information (which is also good for non-mothers), and inspirational. The ultimate trifecta in a running book.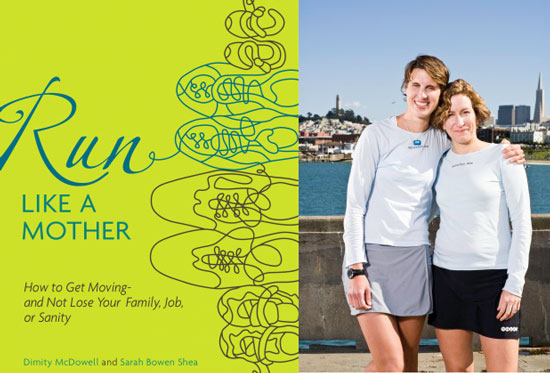 Authors Dimity McDowell and Sarah Bowen Shea, friends and coincidentally both collegiate rowers, love to run and have been around the track a few times. From their years of running, these mothers have learned a thing or two about the sport and share many practical tips on the pages of their book. Here are a just a few of my favorite quotes.
On undies: ". . . moisture-trapping cotton undies under a wicking liner isn't a good call. Unless, of course, you like to end your run at Walgreen's to stock up on yeast-fighting Vagasil."
On running shoes: "Don't settle on a pair of cheap running shoes; they're the equivalent of sleeping on a rock hard futon. Yes, it works for a night, but a week into it, your bones feel downright geriatric."
Keep reading for more quotes from the book.
On cross training: "Running makes you think you're super fit, but a set of Teasers on the Box [a Pilates exercise done on the Reformer] later, your abs quivering, and you're not so sure."
On nutrition: "Don't pay an impromptu visit to Dairy Queen for a Blizzard at mile 12 because you forgot to think about nutrition before your long run . . . Begin fueling before fatigue sets in."
On racing: From the Pre-Race Beauty Dos and Don'ts section, "Don't wax or pluck your brows too drastically. It isn't until sweat is streaming unimpeded from your forehead into your eyes that you realize why we have bushy eyebrows."
The book is cleverly broken up into 26 chapters, which end with entre acts all titled .2 on entertaining subjects like playlists and rants on celeb runners — yes, this book is an ode to every runner's dream, the "mother of all races," the marathon. The 26 chapters cover a lot of ground, from hill training to trail running, from running during and after pregnancy to running with injuries, and all contain quotes from running mothers. These quotes illustrate the wide variety of runners out there, and reading them made me feel like I was part of a larger community. Here are two responses to the question, "Did you run during your pregnancy?"
"I ran up to 6 months with my first child, but no more than 3 miles. I was at the mercy of my bladder." — Christine
"No. Pregnancy is its own marathon." — Jennifer
Run Like a Mother is a book you can just pick up and start reading on any page to find yourself rather engrossed in the subject. It is truly full of helpful information that feels like it came directly from your experienced running buddy. The tone is chatty yet direct, and you can tell these ladies are serious about running, but each has her own distinct perspective. You can follow Dimity and Sarah on their blog and you can find their book on Amazon. Or better yet, run down to your local book store and purchase it there.
Photo courtesy of Winni Wintermeyer