Review of Brooks PureCadence PureProject Running Shoe
Shoe Review: Brooks PureCadence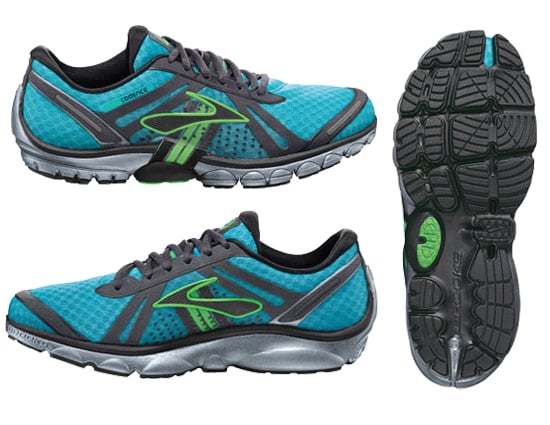 The Brooks PureCadence ($120) is part of the company's new PureProject line of minimalist running shoes. The shoes all feature lightweight, flexible, and eco-friendly materials and are designed to improve your stride. The PureCadence, one of four PureProject models designed for different running needs, is made for the overpronator. Show me a stability shoe that's lightweight and cute, and I get excited, so I was more than happy to test out a pair Brooks sent over. If you're in the market for a pair of minimalist shoes for your dry or indoor runs, read on to learn more about the PureCadence.
If you're a regular stability shoe user, your feet will be happily surprised when you slip on these lightweight shoes. Each PureCadence shoe weighs in at 8.3 ounces, but these sneakers don't skimp on support and cushioning. My feet never felt better, whether I was on the treadmill or running in the park, thanks to the Brooks DNA gel-cushioning, which disperses or firms depending on your stride to give you the support you need. And even though I have low arches, I'm a big fan of the Nav Band that wraps around the shoe (you can see the neon green band in the middle of the shoe in the photo) — you can feel the arch support while you run. My runs felt more light and bouncy than normal, thanks not only to the minimalist design but also the small touches that help correct your stride, like split sole to under the big toe to give it room to balance and push off during your runs (see the split in the sole photo above), and a rounded short heel box helps correct your stride to be more mid- or forward-foot.
Keep reading for more about my Brooks PureCadence review.
I've probably only logged about 30 miles in these shoes so far, half of these miles outside, so I haven't experienced any wearing of material yet. My first impressions, however, were that while I didn't feel like I needed to break them in, I did experience a little bit of tightness around the Nav band during my first few runs, even when I adjusted the laces. I've been having a problem with numbness in my left foot in some shoes, which other runners and trainers I've talked to have attributed to my shoes being too tight or cushion wear-out, so I was disappointed that I still experienced this feeling during the first few miles in these shoes. About a week into running with them, however, the band felt looser and I haven't been experiencing the numbness. I'm curious to see how long these shoes hold up, especially the snug-fitting Nav Band, but so far so good.
All in all, I love these shoes so much that I never want to run in anything else. I even wear them in my favorite circuit-training class at Crunch, since they are responsive enough for balance exercises on the BOSU ball as well as our high-intensity cardio drills. And did I mention that these shoes are cute? The PureCadence comes in teal with neon green accents, and I've already received countless compliments on my pair! If you are an overpronator, I'd recommend testing out the PureCadence. If you are a heel-striker, however, make sure to test these out well before you buy in case the corrective designs (like the rounded heel) disrupt your runs.