Review of Core Bag From Live Well 360
Gear Review: Core Bag From Live Well 360
Gym bags come in all shapes and sizes these days, but Live Well 360 is looking to make schlepping to your workout a little more fashionable. The company has created its Core Bag ($129) as an attractive and functional update of the classic duffel bag. Live Well 360 sent me a bag, so I headed to the gym multiple times to thoroughly test it out.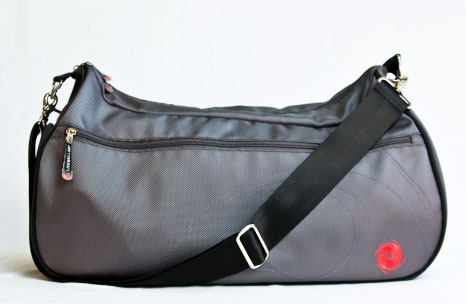 The Core Bag is definitely cute, roomy, and loaded with pockets. The interior of the bag is lined with nylon and printed with motivational text; words in red and gray like "courage," "action," "change," and "accountability" jump out and remind you of all the reasons you go to the gym. There is a soft internal pocket, vented to the outside, for your sneakers. It's a great feature that both separates your smelly shoes from the rest of your gear, but the pocket collapses for traveling sans sneakers increasing the size of the internal pocket. The bag has pockets galore — three medium-sized zippered pockets and one large pocket (the length of the bag) inside and one large zippered pocket outside, which has a couple of pouches and key hook. Oddly, there is no dedicated water bottle pocket or pouch.
For photo details of the interior of the bag, and to learn the size of Core Bag, keep reading
The construction on the bag feels incredibly sturdy and the nylon material is a bit stiff. The Core Bag is large — 21 inches length by nine inches wide, standing 13 high — making it a bit too large for daily commute. While daily use on the subway with this bag is out for me, it is great for a fitness weekend getaway. I stashed my cycling shoes, two days worth of cycling clothes (read: many pieces of gear for layering for long rides starting in cool mornings, ending in warm afternoons), and my toiletries in the Core Bag with no problem.
You can pick up a Core Bag directly from the Live Well 360 website. Check out the photos below to see more of the details on the bag.
Review your gear in the Good Gear / Bad Gear community group. We'd love to hear your opinions, both good and bad, of your latest fitness purchase.