Review of The Dailey Method No Excuses DVD
No Excuses! Try The Dailey Method No Excuses DVD
That lean and toned dancer's body is in thanks to Black Swan, Dancing with the Stars, So You Think You Can Dance and the growing popularity of Bar Method, The Dailey Method, and Body Bar. The differences between the systems may seem subtle at first, but each has a unique focus and avid followers. The Dailey Method, which has locations across the US and studios in Canada and France, has released its first DVD: No Excuses With Jill Dailey ($25). Like the classes, the DVD promises to help you get "longer, leaner, stronger, and more fit" and focuses on ballet bar work, core conditioning, light weights, and stretching.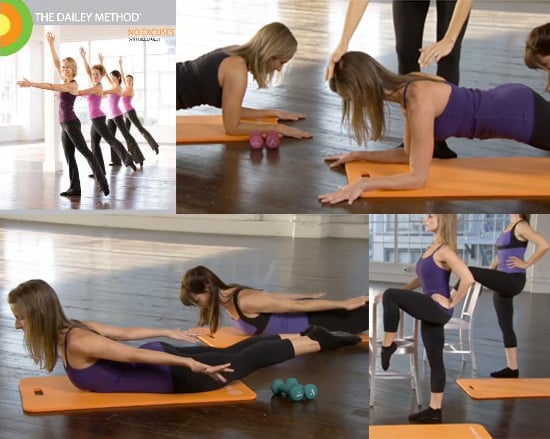 Keep reading for four reasons you should try it and a video preview of the DVD.
Portability: This DVD is a worthy class alternative if you don't have easy access to a studio, or want the workout while traveling or at home. Dailey Method classes utilize a ballet bar, ball, foam mats, and Pilates straps, but the DVD was designed for home, so all you'll need is a mat, chair, and mat.
Solid instruction for all: This DVD gets high marks for its careful position instruction, pace and ability to accommodate and challenge new and advanced students — a shortcoming of most DVDs. Method founder Jill Dailey explains core positions for first timers in an intro, but advanced followers can power through the "Express Class" for an efficient workout and learn from Dailey's instruction (I did!). Naturally, the DVD's main chapter is a full-length class that mirrors an in-studio class save the actual barre work.
It's a challenge: I practice Bar Method and Dailey Method regularly and found myself pleasantly sore the morning after testing the DVD. The method focuses on low impact work designed around small, but carefully targeted movements. You will feel it in your glutes.
Sweet inspiration: The DVD was filmed in a gorgeous studio with bright morning light and Dailey and her team of instructors deliver ample fitness inspiration. I found myself thinking "I want to be that flexible, strong, and fit too!" as I followed along, which is the same sentiment that keeps me going back to Dailey Method classes.
If you have access to a studio I recommend trying a class because instructors are generally more energetic than the DVD lesson and they play a more "rock and roll" soundtrack, but if you want to try the dancer workout from your DVD player this one stands up to the bar set by the recently released Bar Method Dancer's Body Advanced Workout. I now plan to rotate between them for the best of both methods.
.