Review of Dance Central 2 and Kinect Sports Season 2
Game On: Dance Central 2 and Kinect Sports Season 2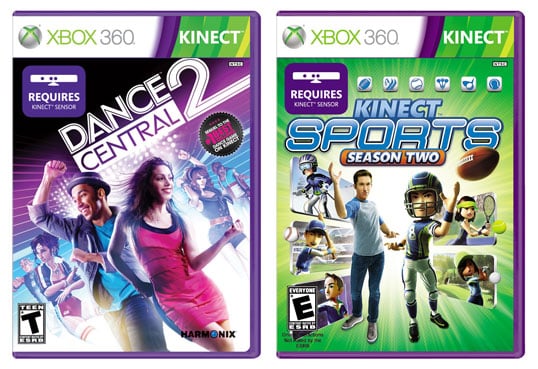 I don't think exergaming will ever replace running in the great outdoors, but it certainly gets people off the couch and moving — something we could all do a bit more of. My family of four has been perfecting our dance moves and working on our sports skills since last Christmas, when my hubby received a Kinect as a gift, turning his Xbox into family fun time. Updated versions of our fave games, Dance Central 2 ($50) and Kinect Sports Season 2 ($50), were just released. We've been tearing it up in the living room with these two games, and here's what we think.
Dance Central 2
The new soundtrack includes a mix of old-school tunes ("Baby Got Back" by Sir Mix-A-Lot and Donna Summer's "Hot Stuff") and recent hits (Lady Gaga's "Born This Way" and the Usher/Pitbull tune "DJ Got Us Fallin' In Love") and is highly inspirational. The graphics are improved from last year's game; even though the game is now busier visually, the graphics are not distracting but certainly add to the entertainment value. The final photo of the game is now you, the player, in the ending position, which is always good to nail for extra points. The developers have managed to create a background so you don't see the walls of your living room in the low res photos of your moves, but disco-inspired horizontal neon lines. When you do a move correctly, a tracer appears around your hands giving you positive visual feedback. It's cool!
Keep reading to learn more about both games.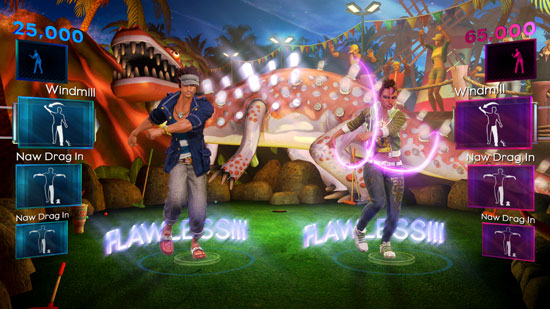 The best update: you can have two players dancing simultaneously. And it's super easy to integrate another player into your groove; your friends can jump into the game at any time — midsong even — and a dancing avatar will appear. Simultaneous multiplayer means no more sitting around on the couch when you feel ready to trip the light fantastic. The main menu is now voice enabled, and you can start the game by simply saying, "Xbox, dance." And if you need to pause, the game responds to the command "Xbox, pause." The fitness mode of the game is still intact; you can dance uninterrupted for 10 to 25 minutes and really rock out.
Kinnect Sports Season 2
Get ready to play, and hard! These six sports will have you moving about, swinging your arms, and sprinting in place: football, baseball, tennis, skiing, golf, and darts. Well, probably not darts — I did find this sport a bit tedious, unlike golf, which felt surprisingly full body. With three levels (rookie, pro, and champion) in each sport, it's easy to find the right level of play for yourself.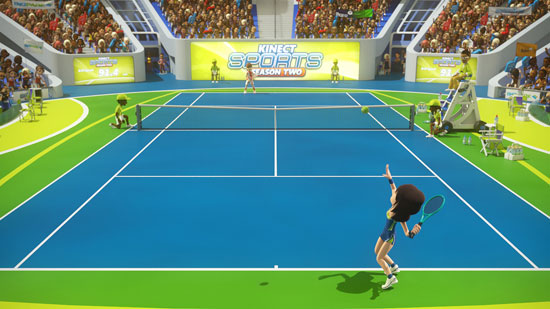 Season 2 is also audio enabled, which makes it feel downright sporty. Shout "Let's go!" to begin your ski race, and you can easily pull a Mulligan while golfing with the command "Practice," which allows you to figure out your shot before truly taking it. Nice! You can play tennis in real time against a pal — just make sure you each have enough room to swing — and via the Internet you can involve more than two people using the Xbox LIVE feature to challenge your friends off-site. I haven't tested this feature out yet but hope to soon.
Do you play either of these games? Tell me what you think of them in the comments below.