Review of ElliptiGO — The Elliptical Bicycle
If an Elliptical and Bike Were to Procreate: ElliptiGO
I find the elliptical a piece of necessary evil in my life. It's not my fave cardio workout, but it's convenient (we have one tucked into a corner of our home gym) and gentle on the joints. Unlike an outdoor run, where after 30 minutes you start to dread running but you still have to get yourself home, I can just hop off the elliptical. Dare I say it? Ellipticizing is boring.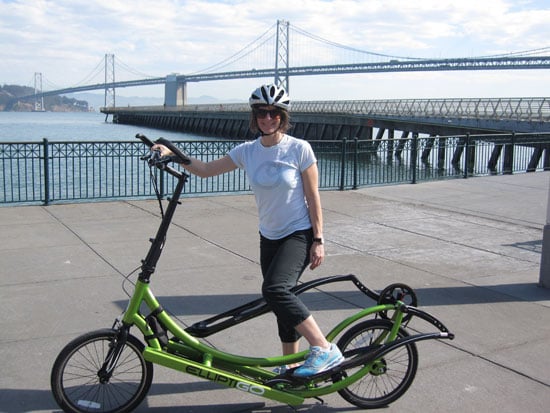 Keeping all the pros of the elliptical (the graceful, low impact stride) and eliminating the cons (you just don't go anywhere on the thing) is the ElliptiGo ($2,200), an elliptical powered bicycle. I rode one around AT&T Park in SF the other day and I felt like a gazelle gliding along the Embarcadero, taking in the sights while playing hooky. Similar to a bike, the ElliptiGO has two wheels, but you stand rather than sit — so you burn more calories than cycling since you're weight bearing. The ElliptiGO is powered by the same motion as my home elliptical; you use the large footplates like pedals to move the chain, which powers the wheels. The incline is set fairly high so your hips and knees move through a large range of motion, similar to running. Working at a moderate pace on a flat road, I was going about 13 miles per hour and it felt great. I didn't climb any hills on the ElliptiGO, but I was told it is definitely doable, especially since it has eight gears.
The price tag is steep, but similar to a carbon fiber road bike. You can buy a stand, just like an indoor trainer for bikes, to use the ElliptiGo inside, which seems odd since the upside of the machine is you can use it outside. But the stand adds versatility to your investment and with the price tag over two grand I would call an ElliptiGO an investment. The ElliptiGO fits folks 5' to 6' 6" tall (it has a telescoping handlebar stem) with a maximum weight of 250 pounds. Perfect for cross training for both runners and cyclist, the ElliptiGO also challenges the core as you make micro adjustments as you cruise along.
Check out one in motion.
Demos are available in plenty of western states as well as NYC. I certainly recommend the experience. And I am not alone — ultra marathoner Dean Karnazes is a fan too.