Review of Exhale Core Fusion Yoga Energy Flow
DVD Review: Exhale Core Fusion Yoga Energy Flow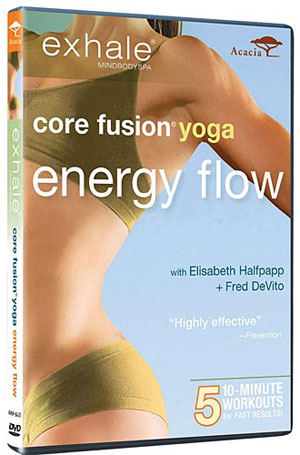 The Exhale Mind/Body Spa is well-known for its dynamic yoga classes, and now you can feel like you're taking one with renowned instructors Elisabeth Halfpapp and Fred DeVito, right in your own living room. Check out their newest DVD, Exhale Core Fusion Yoga Energy Flow ($17). The 55-minute video is energetic and fast-paced, with a unique combination of traditional yoga poses, cardio, Pilates toning moves for the entire body, as well as Chi Gong for flexibility and balance.
There are five segments, and the first, called Energy Flow, is a sequence of postures that includes favorites like Cat and Cow to warm up the spine and Lizard to open the hips. It moves fairly slowly so you can deeply open the body and begin to connect your movements with the breath.
The next two segments are variations of basic Sun Salutations. They move more quickly, flowing from one pose to another, so at points I could feel my heart beating rapidly in my chest. I was a huge fan of how they incorporated strengthening moves like push-ups, squats, and lunges within the traditional sequence. If Vinyasa is your favorite type of yoga, this part of the video will feel like coming home.
To hear about the rest of the video and see a clip,
.
The next 10-minute segment focused on Chi Gong movements, so being new to me, it was fun and really effective. By the end, my thighs and glutes were on fire, and my hips and hamstrings felt more open. The last segment was 10 minutes of no-nonsense, muscle-burning core and tush work — areas we all need to work. And just as expected, the video finishes with some relaxing stretches and Savasana.
At the end of this quick-paced video, I felt like every part of my body had been worked and stretched. I loved that it incorporated traditional poses and sequences I've come to love from yoga, but it also added some creative variations to keep your mind and body guessing. This is the kind of video I could pop in over and over again and never feel bored. The explanations are detailed enough for a beginner, but the quick-paced flow of postures is challenging enough for an experienced yogi.
If you're not convinced, watch the clip below.
There's a whole series of Core Fusion DVDs depending on your needs, so check these out: Thighs and Glutes, Pilates Plus, Body Sculpt, and Pure Abs and Arms.