Review of Ezekiel 4:9 Golden Flax Cereal by Food For Life
Food Review: Ezekiel 4:9 Golden Flax Cereal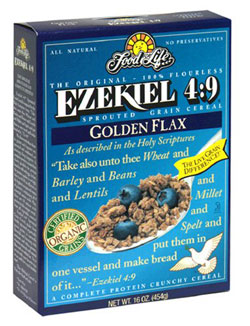 LA fitness and food gurus from Harley Pasternak to Jorge Cruise regularly sing the praises of Ezekiel 4:9 products, made by Food For Life. Inspired by the eponymous Bible passage about making bread with grains and beans, the Ezekiel 4:9 products focus on a mixture of whole grains and sprouted lentils. Having heard, but never come across anything by the company, I was surprised when my husband arrived home after an early morning trip to the grocery store with a box of Ezekiel cereal. We opened up the box, poured ourselves bowls, and began breakfasting.
To see how the cereal tastes, the ingredients and nutritional information keep on reading.
The cereal reminded the mister of Grape Nuts; it's super crunchy and my husband wasn't crazy about it. But after reading the serving suggestion to heat a half cup serving of the cereal with a half cup of liquid (the company suggests rice milk or pineapple coconut milk — I used low-fat milk), I tried it warmed and topped with raspberries and blueberries. It was tasty and filling and unsurprisingly not too crunchy. It's a little bland on its own, but top the cereal with some fresh or dried fruit, and it tastes like whole grain goodness. As someone who rants regularly about added sugars, I appreciate that this cereal contains zero grams of the stuff. It's also high in fiber and protein. Check out the nutritional information below:


| | |
| --- | --- |
| Serving Size | 1/2 cup (57 g) |
| Calories | 180 |
| Total Fat | 2.5 g |
| Saturated Fat | 0 g |
| Cholesterol | 0 mg |
| Sodium | 190 mg |
| Carbs | 37 g |
| Fiber | 6 g |
| Sugar | 0 g |
| Protein | 8 g |

Ingredients:
Organic Sprouted Whole Grain Wheat, Filtered Water,
Organic Malted Barley, Organic Golden Flax Seeds,
Organic Sprouted Whole Grain Barley, Organic Sprouted
Whole Grain Millet, Organic Sprouted Whole Lentils,
Organic Sprouted Whole Soybeans, Organic Sprouted Whole Grain Spelt, Sea Salt.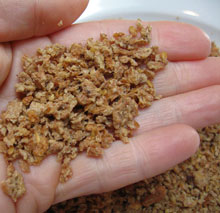 From taking a look at what the cereal actually looks like, you can tell it doesn't look overly processed. This much natural goodness doesn't come for cheap. One box, which contains eight servings, cost $6.99 — holy whole grains. Have you tried this cereal? Tell me what you think about it.