Review of Fila's Body Toning Capris
Gear Review: Fila Body Toning Capri
First came toning shoes, designed to help you burn more calories with every step. And now you can dress yourself head to toe in toning gear, at least in bottoms and tops. Fila just introduced a new line of toning clothes. According to Fila its Body Toning System works three ways.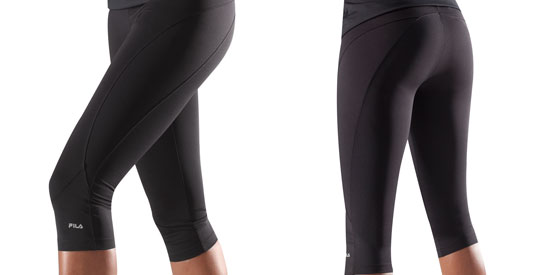 First, the layering of fabric in the construction of the clothes makes you work harder, wearing the pants or capris is said to increase "muscle effort by 50 percent." The second level is compression. Fila states that the compression fabric provides 41 percent more support for your muscles, which helps increase "blood flow and oxygenation," which in turns helps your muscles to do their thing more efficiently. And lastly, the pants and capris, due to their reinforced structure, are supposed to suppress the jiggling of your wobbly bits and smooth out the appearance of cellulite. In essence, the Body Toning gear makes you work harder while helping you feel better about the appearance of your backside.
Fila sent me a pair of capris ($50) to test out. I put them on and modeled the new look for my husband, and his response was that the pants "looked industrial." Nice. However, I did feel my lower love handles, as I lovingly refer to my saddlebags, looked significantly smaller. My legs and abs (the capris are fairly high-waisted, coming almost to my navel) definitely felt tucked in and smoothed out. My lower body felt supported without feeling tight or squeezed, as if I were wearing pants a size too small.
A few more details, when you
.
I cannot confirm or deny the claim that the pants made my legs work harder — I have no method of measuring that — I didn't feel like I was working harder. Although the capris felt stiff around my knees when walking, running was no problem. I must admit I kind of liked the supportive feel of the compression pants. I wore them for a tempo run, and my legs felt great the next day. Was it the pants? I don't know. I wore them for a circuit workout too and similarly cannot say they made the workout any more challenging. These pants will definitely stay in my rotation of workout gear.
Have you tried any of Fila's Body Toning gear? What did you think?