Review of Gaiam Core Balance Kit
Gear Review: Gaiam Core Balance Kit
Toned abs not only look amazing in a bathing suit, but they're also important because they make activities like running, biking, and swimming easier. Plus a strong core makes for better posture, too. If you've ever done strength training exercises on an exercise ball or Bosu, you know that the unsteady base forces you to engage other muscles aside from the ones you're trying to target. That's the idea behind using the balance pods in Gaiam's Core Balance Kit ($30).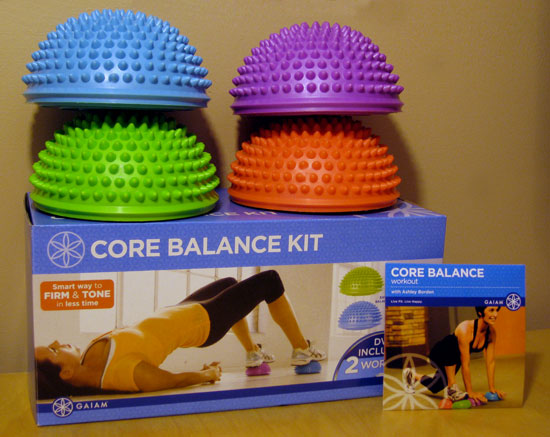 To find out more about this kit and to see a video clip of how to use the balance pods, keep reading.
The kit comes with four colorful inflated discs and an instructional DVD that includes both a beginner and intermediate workout. The 20-minute beginner workout moves slowly and doesn't use dumbbells, so you can learn the basics of how to use these pods to tone your core as well as the rest of your body. The 25-minute intermediate workout moves a little faster and uses hand weights to make the moves more challenging.
You're shown how to use the pods to do familiar exercises like squats, lunges, push-ups, and bridge lifts. Some of the moves, like squats and bridge lifts, I preferred doing with the balance pods because they definitely seemed harder and more effective than doing the moves without them. Other moves like push-ups and cat/cow stretches, where your hands or knees were resting on the pods, were a little uncomfortable since the pods are so knobby. I found it helpful to cover the pods with washcloths for those exercises.
Don't expect to have a good sweat session by following the DVD. Even the intermediate workout isn't very challenging since the instructor leads you through such a short number of reps. To make it harder, I lengthened the workout by adding more repetitions and using heavier weights for a bit more of a challenge. I also experimented using the balance pods with some of my favorite exercises. They're especially great to use with balancing moves like Side Leg Lift Squat and standing strength training moves such as Upright Row With Overhead Shoulder Press.
Not only do these pods help make your strength training workouts a bit more challenging, the pods and DVD are portable and lightweight, so they can easily be packed in a gym bag or suitcase.